Canada is calling on Venezuela's socialist government to scrap the Sunday's vote for a Constituent Assembly that will be tasked with rewriting the country's constitution but Ottawa remains mum on whether it will join U.S. sanctions on high-ranking Venezuelan officials.
"Canada reiterates its serious concern with President Nicolás Maduro's intentions to establish a Constituent Assembly on July 30, 2017," Foreign Affairs Minister Chrystia Freeland said in a statement on Wednesday.
"The process to create the Constituent Assembly is contrary to Venezuela's constitution and seeks to usurp the democratic rights of its citizens."
The plan for the Constituent Assembly is neither in keeping with democratic principles nor representative of the Venezuelan people, Freeland said, referring to a recent opposition-led plebiscite that was denounced by the Maduro government but supported by Washington and Ottawa.
"We call on the Venezuelan government to cancel the national Constituent Assembly and to take concrete actions, with the opposition, to restore democratic order," Freeland said.
U.S. presses for hemispheric response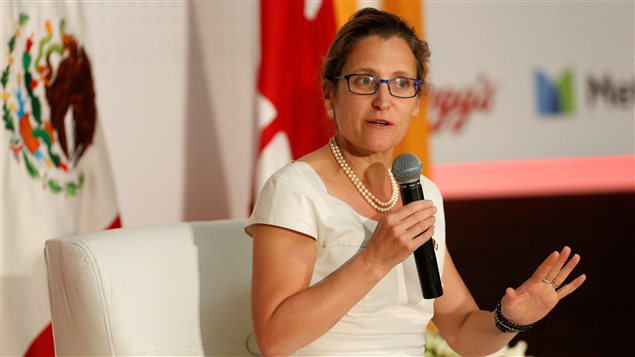 Freeland's statement came after Trump administration officials on Wednesday announced the plans to sanction 13 current and former top officials of Maduro's government in an attempt to discourage the election.
"Canada welcomes and supports the important actions taken today by the United States to target leaders of the regime," Freeland said. "Individuals who are undermining democracy and human rights in Venezuela should be held accountable for their actions."
Speaking to reporters on background on Wednesday, a State Department spokesperson said the United States "are prepared to take strong and swift economic actions if the government of Venezuela holds the July 30 Constituent Assembly elections."
"We encourage governments in the hemisphere and around the world to call on President Maduro to abandon the Constituent Assembly process, which endangers democracy in Venezuela, and to take strong action to hold accountable all persons, regardless of rank or position, who threaten Venezuela's democratic institutions," the State Department spokesperson said.
Violent protests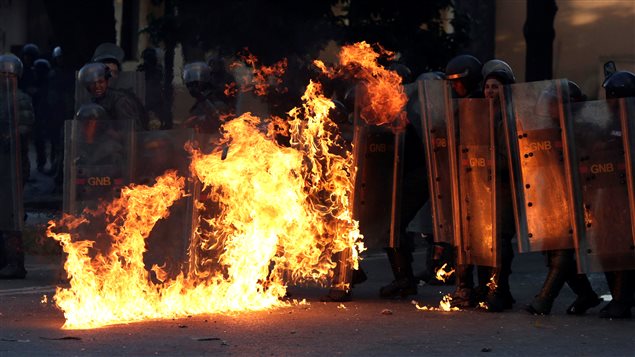 At least 105 people have died in four months of street protests across the country, which began after Venezuela's Supreme Court, dominated by supporters of President Maduro, ruled to strip the opposition-dominated parliament of its powers, accusing lawmakers of "contempt" after allegations of irregularities by three opposition lawmakers during the 2015 elections.
The ruling, which was denounced as a coup by the opposition, was later reversed but massive street protests against Maduro government continued.
As Venezuela's crisis has deepened, with triple-digit inflation, record shortages of food and medicine and rising crime rates, Maduro has sought to rebuild his popular support by calling for a constituent assembly to rewrite the country's "anti-capitalist" constitution crafted by his political godfather, the late President Hugo Chavez.
Opposition vows to boycott vote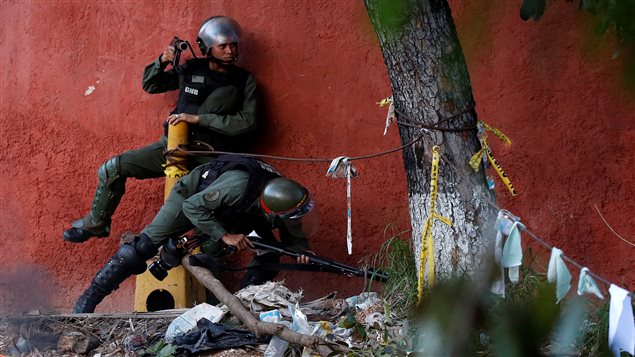 Venezuelan voters on Sunday will choose 364 constitutional representatives distributed across municipalities and state capitals and another 181 so-called "sectoral" candidates from demographic groups ranging from students to farmers and fisherman.
The opposition Democratic Unity coalition is boycotting the vote. They say the use of sectoral candidates, who had to collect signatures and file them to the government-leaning elections council, was a way to weed out anti-government aspirants.
Critics fear the Constituent Assembly could allow Maduro to postpone the 2018 elections that many think he has good chance of losing amid the economic crisis that has gripped Venezuela. Maduro, however, has vowed that presidential elections will be held in at the end of 2018 "come rain, thunder or lightning in Venezuela."
However, he is yet to announce the exact date.
With files from Reuters