There are fewer than 100 poweshiek skipperling butterflies in Canada and fewer than 500 in the world, but several entities are working hard to save them.
This small, brown and orange butterfly is only active during a three-to-four week period in June and July. That's when researchers from the Nature Conservancy of Canada (NCC) and the University of Winnipeg count them to see how many survived the winter.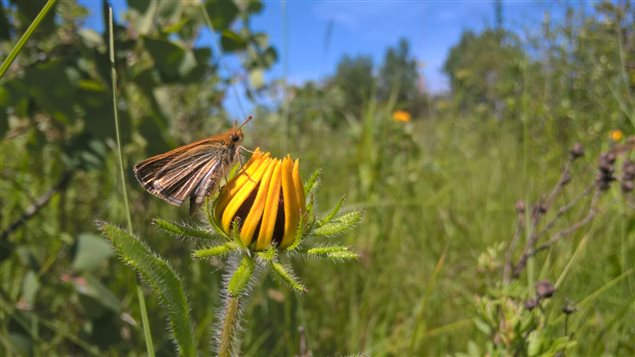 Ecosystem reduced to a patchwork
"One of the reason this species is so endangered is that it depends on an endangered ecosystem called the tall grass prairie," says Cary Hamel, a conservation science manager with the NCC. "That's a habitat type that used to stretch right down the centre of North America all the way from (the Canadian province of) Manitoba down through (the U.S. state of) Texas.
"It's been really heavily impacted by clearing…for agriculture, cities and other developments, so that less than one per cent is thought to remain. And so, it's just little patches remaining across North America that the species depends upon and so it, of course, in its own right is rare."
Listen
'Every winter we…hold our breath'
To preserve some of this ecosystem, the NCC has acquired land and created the Tall Grass Prairie Natural Area of Southeast Manitoba. It is working with other environmental charities, universities, governments and zoos on several fronts: annual surveys, habitat conservation and restoration, research and captive rearing.
"(This butterfly) species is so endangered that every winter we kind of hold our breath and then hope that they make it through the winter…" says Hamel. "If they do slip away it won't be for lack of trying.
More butterflies are endangered
"Unfortunately, it's part of a larger group of butterflies that depend on prairie that are also in trouble. So, we are trying to learn as much as we can, as quick as we can, so that if it's too late for this butterfly at least some of the lessons learned will help some other species."