Bottled water companies are paying a lot more for the water they extract in Ontario.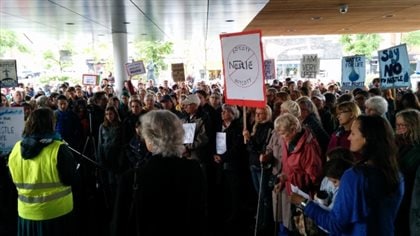 Effective August 1st, the Ontario government raised the fee from $3.71 (Cdn) per million litres, to $503.71 (Cdn) per million litres.
The government says the increased fee will help with cover the cost of managing the industry, and provide more scientific research on environmental impacts, and better data analysis on the groundwater taken for water bottling.
"Water is a commons, a human right and public trust"
Ontario also imposed a moratorium on any new or expanding water takings by bottling companies until Jan. 1, 2019.
"We will accept the final water price set through this process. In principle, we believe all groundwater users should be treated equally, but we understand and appreciate that opinions differ regarding the rates various water users should pay," Nestlé Waters' director of corporate affairs Jennifer Kerr said in a statement sent to CBC News.
Emma Lui of the The Council of Canadians does not see the price increase as much of a deterrent. She says for Nestlé it may amount to a 20th of cent.
Listen
"I think we have to move away from the idea that pricing water, or increasing fees, is how we're going to protect water, it's really about needing to look at water as a human right, as a commons, so that's something that we all share and have a responsibility to protect, and a pubic trust, and so that means that the government has a responsibility to protect water for current and future generations." Lui says.
A local water bottling company owner was complaining about the industry being singled out, while other hefty water consumers, such as Ontario's 800 golf courses are not having to pay more.
Emma Lui explains, however, that bottling water is consumptive, the water never returns to the water shed.
Meanwhile, the news that as many as one in five homes in the Toronto area primarily use bottled water for drinking comes as a disappointment for many in the campaign against the unsustainable practices around bottled water.
In an interview with CBC radio, Maude Barlow, Chairperson of the Council of Canadians, said the big water companies have done a great job of making people feel their tap water is not safe. She points out the irony in that bottled water, which is classified as a food product is not required to be test often, whereas tap water is tested regularly.
And indeed some bottled water is bottled tap water.
Barlow said Nestlé will be taking 6 million litres a day from three wells in the Guelph and Elora area of Ontario, a region where 11,000 First Nations people still don't have access to safe water.