Four Royal Canadian Air Force (RCAF) CF-18 Hornet fighter jets have arrived in Romania for a four-month deployment under NATO's enhanced Air Policing mission.
The Canadian aircraft and about 135 supporting Canadian Armed Forces personnel will be based at the Mihail Kogalniceanu Air Base, near Romania's second largest city of Constanta on the Black Sea coast.
The Canadian deployment is part of Operation REASSURANCE, Canada's contribution to NATO's mission designed to contain Russia's increasingly assertive policy in Eastern Europe and reassure the alliance's newest members in the wake of Russia's annexation of Crimea.
"The Canadian Armed Forces is committed to the principle of collective defence of the Alliance, which is at the very heart of NATO's founding treaty," Lt.-Gen. Steve Bowes, Commander of the Canadian Joint Operations Command, said in a statement.
Lt.-Col. Mark Hickey, commander of the Canadian detachment deployed in Romania, said the RCAF has "ample experience deploying under NATO Air Policing missions."
The RCAF has also deployed CF-18 Hornets jets to the Baltic States and Iceland in support of NATO missions, Hickey said.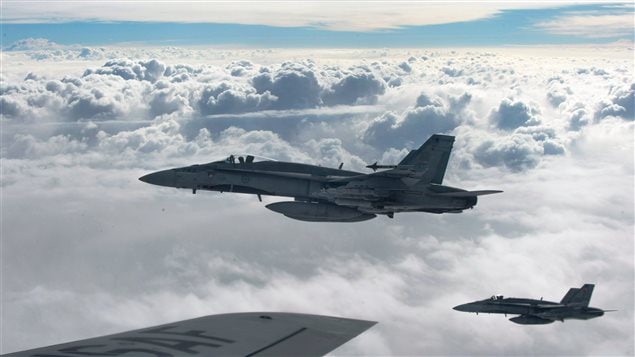 The RCAF first deployed Canadian aircraft and crew to Romania as part of Op REASSURANCE following Russia's annexation of Crimea in 2014.
Constanta is only about 390 kilometres west of the Russian airbase in Novofyodorovka, located not far from Sevastopol, Crimea, and it would take a CF-18 less than half an hour to reach Crimea.
Russia, in turn has stationed SU-30 fighter jets and older SU-24 frontline bombers in Novofyodorovka, according to a Reuters correspondent who visited the site in 2016.
Together with their Romanian colleagues flying older Soviet-built MiG-21s fighter jets, Canadian pilots will have the task of securing the skies over Romania, which since 2016 has hosted part of a U.S.-controlled international missile shield.
The project is scheduled to become operational in late 2018, when work on a radar installation in Poland – the other main land-based component in the shield – is completed, Reuters reported.
Washington says the shield is designed as a defence against Iranian missile strikes. But Russian President Vladimir Putin says the system and NATO are both threats to Russia's security, and has promised to retaliate.
For the next few days, the Canadian fighter jets are scheduled to conduct familiarization flights before starting their mission, the military said.
With files from Reuters