The number of asylum seekers crossing illegally the U.S.-Canada border in Quebec has "moderated" slightly from the 250 people a day to an average of 140 asylum seekers a day over the weekend, federal officials said Monday.
Speaking to reporters at the St-Bernard-de-Lacolle border crossing, Public Safety Minister Ralph Goodale and Immigration Minister Ahmed Hussen said while it was too early to say whether the reduction in the numbers of asylum seekers was part of a new trend, federal officials were able to process more cases than there were new arrivals at a makeshift refugee camp on the border.
In just the first two weeks of August, more than 3,800 people walked over the border from New York State into Quebec, compared to the 2,996 who crossed throughout in all of July, according to statistics provided by the Royal Canadian Mounted Police (RCMP).
The Canadian military has had to set up a temporary tent camp near the border crossing to house and shelter the asylum seekers waiting to be processed by the Canadian Border Services Agency and immigration officials.
'Not a free ticket to Canada'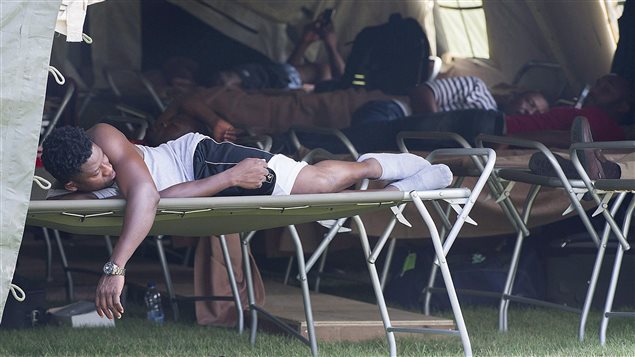 Many of the recent refugee claimants crossing are Haitians who have been living in America for years but now face deportation. In May, U.S. President Donald Trump announced that he would not be extending temporary protection status for Haitian nationals past January, when it's set to expire.
It was granted after the 2010 earthquake, but now the Department of Homeland Security considers Haiti to be a safe country.
Canada's own program granting Haitian nationals temporary refuge after the earthquake has already ended, after it was extended twice by the Trudeau government.
"Trying to cross the border in an irregular fashion is not a free ticket to Canada," Goodale said, repeating a message the Liberal government has been trying to get across to potential asylum seekers.
Everyone attempting to cross the border in "irregular fashion" between official points of entry will be apprehended by the RCMP, the individuals will be identified, their biometric and biographic information collected, and their names will be checked against Canadian and international computer databases, Goodale said.
'Assiduous in enforcing the law'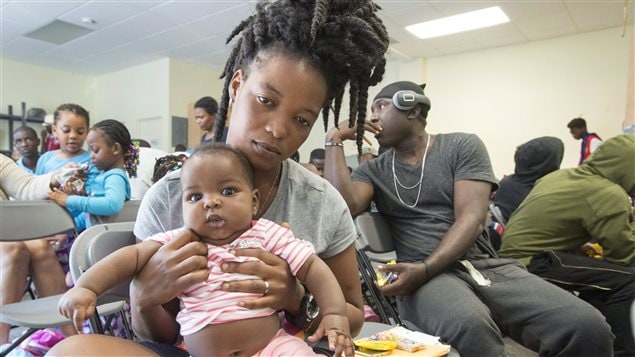 Asylum seekers will have to prove that they have a valid refugee claim in Canada in front of the Immigration and Refugee Board, Goodale said. And if the board determines that the asylum claim is unfounded, the failed refugee claimants will be deported, Goodale said.
"To the extent that there has been misinformation or disinformation circulated in the United States and elsewhere with respect to border circumstances in Canada, it is very important that we dispel all of those myths and make sure that people understand very clearly that Canadian law applies and we will be assiduous in enforcing that law," Goodale said. "People should not think that border-hopping is a desirable or productive thing to do."
Hussen said the CBSA has more than tripled the number of officers assigned to processing the new arrivals.
The federal government has also redeployed 20 additional immigration officials from other parts of Canada to Montreal to increase its capacity to process asylum eligibility hearings to determine whether asylum seekers are eligible to make a refugee claim in Canada, Hussen said.
Another 10 additional officers will be added this week, the minister said.
The government is also deploying immigration officials to Cornwall, Ontario, to be able to do "on-site" eligibility hearings, Hussen said.
'Illegal and potentially dangerous'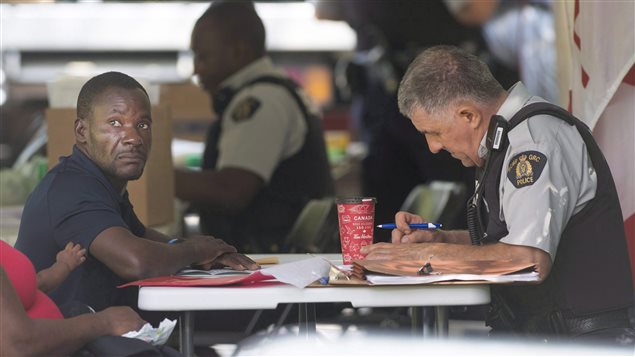 At the moment, it takes the government about five months to hear and make determinations on asylum claims, Hussen said
The government wants to increase its current capacity from hearing 95 cases a day to about 200 claims a day in the near future, with an ultimate goal of being able to hear about 500 cases to speed up that process, Hussen said.
Ottawa is also using its diplomatic presence in the U.S. and various other means to drive home the message that crossing the border into Canada irregularly does not give anyone an advantage, Hussen said.
"It is illegal, it is against our Canadian law, it is potentially dangerous and we discourage people from doing that," said Hussen.
Conservative Party immigration critic Michelle Rempel said the Liberal government is downplaying the urgent need to deal with the surge in people crossing the border.
"They knew it was going to be a problem this summer. And their response has been building tent cities on the U.S.-Canada border," she said in an interview with CBC News.
In January, Prime Minister Justin Trudeau tweeted: "To those fleeing persecution, terror and war, Canadians will welcome you, regardless of your faith. Diversity is our strength."
Rempel said Trudeau's statement was misleading and said he should make it more explicit that asylum seekers risk being deported to their country of origin if they enter Canada illegally.
With files from CBC News