The United Nations children's agency needs urgent financial support from international donors to care for nearly 200,000 Rohingya children who have fled to Bangladesh from Myanmar in recent weeks to escape what the UN's human rights chief has called a 'textbook example of ethnic cleansing,' a spokesman for UNICEF said Tuesday.
Jean-Jacques Simon, a Canadian who serves as chief of communications for UNICEF in Bangladesh, said the agency has been struggling to provide the necessary services for more than 300,000 Rohingya refugees who have crossed the border since the outbreak of most recent violence in late August.
About 60 per cent of these new arrivals fleeing a brutal crackdown by the Burmese military are children, Simon said in a phone interview from Cox's Bazar in eastern Bangladesh, near the border with Myanmar.
Humanitarian agencies operating in Cox's Bazar urgently need $77 million US to assist people who have fled violence in Myanmar's Rakhine state, where many of the Rohingyas have lived for generations, the office of the United Nations Resident Coordinator in Bangladesh announced last week.
UNICEF is appealing for $7.3 million to help it deal with the crisis and care for the children and their families in the next four months, Simon said.
Urgent needs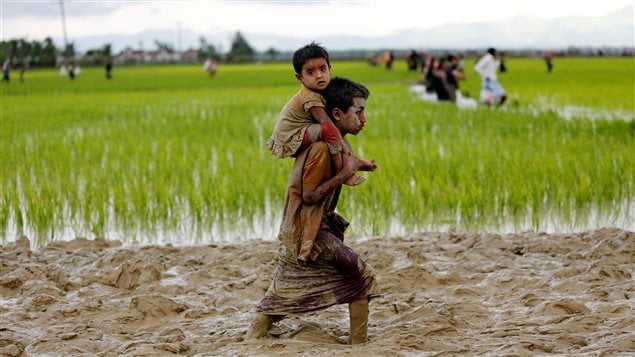 "They usually arrive in very poor condition," Simon said. "They usually arrive weak, tired and in need of healthcare, they need food, they need shelter."
Many of the children are unaccompanied or had been separated from their parents and family members, he said.
"They need double protection from us and from the communities as well because they are extremely at risk of any type of abuse and exploitation," Simon said. "They are the first target for our efforts and it's extremely important because there are so many of them."
(click to listen to the interview with Jean-Jacques Simon)
Listen
The agency has been providing services related to protection, education, nutrition as well as water and sanitation in the makeshift camps that have sprung up around Cox's Bazar and in remote areas near the border, Simon said.
Many of the children arrive in such poor nutritional state, they need urgent and specialized nutrition support services, he said.
UNICEF also has to plan ahead to care for the children's educational needs.
UNICEF has already built eight functioning Child Friendly Spaces for Rohingya children and adolescents, providing children with psychosocial and recreational support, the agency said.
UNICEF has also initiated the screening of children for malnutrition and a vaccination campaign to inoculate children up the age of 15 against Measles and Rubella, Simon said.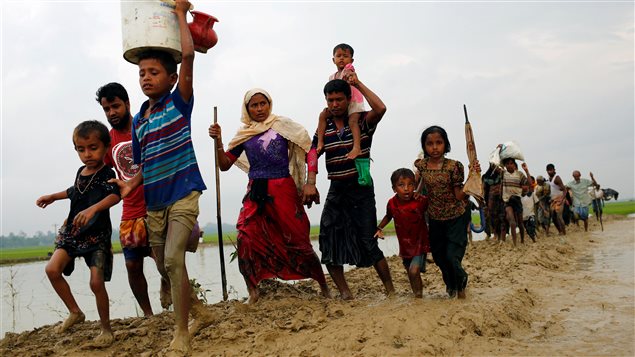 'Textbook example of ethnic cleansing'
On Monday, the United Nations human rights chief lashed out at the treatment of the Rohingya in Myanmar.
The latest security operation in Rakhine state following attacks by Rohingya militants on Aug. 25 against 30 police posts was "clearly disproportionate and without regard for basic principles of international law," Zeid Ra'ad al-Hussein told the UN Human Rights Council in Geneva.
"The situation seems a textbook example of ethnic cleansing,"al-Hussein said, noting that the current situation cannot yet be fully assessed since Myanmar has refused access to human rights investigators.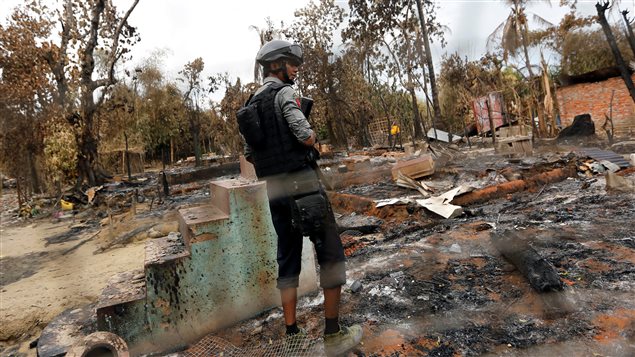 Many more people reportedly remain trapped in the no-man's-land between Myanmar and Bangladesh, al-Hussein said.
"We have received multiple reports and satellite imagery of security forces and local militia burning Rohingya villages, and consistent accounts of extrajudicial killings, including shooting fleeing civilians," al-Hussein said.
Myanmar's military says it is fighting Rohingya militants and denies it is targeting civilians.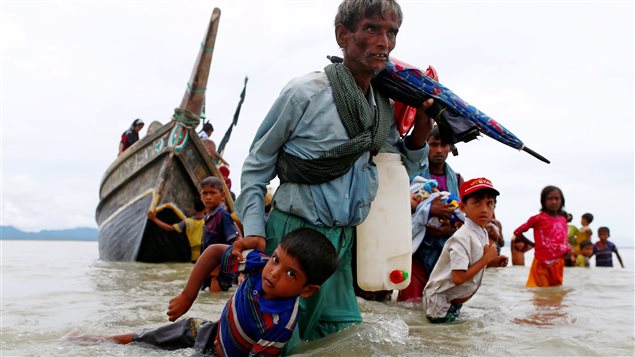 Al-Hussein also cited reports of Myanmar authorities laying landmines along the border with Bangladesh and requiring Rohingya returnees to provide "proof of nationality."
"Given that successive Myanmar governments have since 1962 progressively stripped the Rohingya population of their political and civil rights, including citizenship rights – as acknowledged by Aung San Suu Kyi's own appointed Rakhine Advisory Commission – this measure resembles a cynical ploy to forcibly transfer large numbers of people without possibility of return," al-Hussein said.
Canada deeply concerned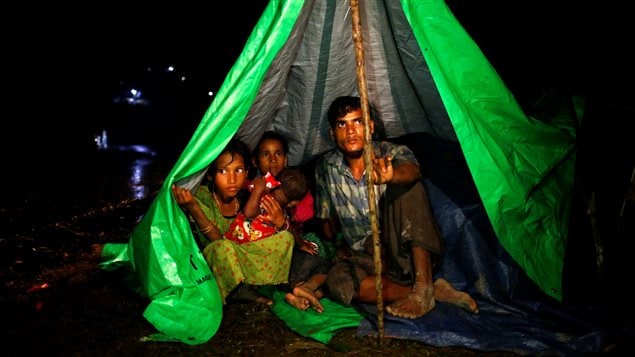 Foreign Affairs Minister Chrystia Freeland said last week Canada was deeply concerned by the critical and worsening situation in Rakhine state and its impact on neighbouring Bangladesh.
"Appreciating their shared responsibility to lead the fledgling democracy of Myanmar, Canada firmly reminds State Counsellor Aung San Suu Kyi and the military leadership of their duty to work together and act responsibly in the face of the current humanitarian crisis," Freeland said in a statement.
"The violence must end now. The Rohingya should be respected and recognized in the country. To deny their rightful place in Myanmar only weakens the democratic vision Aung San Suu Kyi has fought so hard for throughout her life."
Rohingya activists in Canada have called on the Liberal government to strip Aung San Suu Kyi of her honourary Canadian citizenship for her failure to address the violence against the Rohingya minority.