Cooper's Farm is a small family farm about 60 kilometres north-west of the Greater Toronto Area in the province of Ontario.
It has a little bit of everything happening, with cattle, sheep, pigs and chickens, and at this time of year, a 10-acre corn maze.
"It's not as hard as it looks, but it's not as easy as it looks"
And for the first time, the family had an early spring harvest of maple syrup this year.
Lisa Cooper, who married into the farm, says it was a great beginning.
"We had 450 taps and we got just over 560 itres of maple syrup at the end, which is quite good."
Listen
It's also a CSA farm, one in the growing trend of "Community Supported Agriculture".
It's "a weekly boxed program, or bi-weekly or monthly or whatever people decide to sign up for." Lisa Cooper explains.
"We deliver, or they pick up vegetables at the farm, fruit, meat, etc." she says.
This week people are getting strawberries, potatoes, spaghetti squash, tomatoes, jalapenos, and sweet corn.
It's not an organic farm but they do practice what's known as IPM. "Integrated Pest Management"
"That basically means that we scout our crops on a weekly basis, and see what's happenig out there: are there weeds that are becoming invasive, are there bugs that are becoming invasive, is there any issues with nutrition that need to be looked at, and if there is any of those things that's when we would go in and if we would need to spray a herbicide to knock back the weeds, or, would we need to spray a pesticide to get rid of the bugs, that type of thing, or do we need to ferti-gate, putting some fertilizer on the items." Cooper says.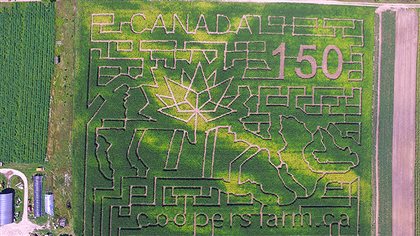 "We're just trying to grow the best food possible, the best way that we can that's going to be the best for the continuation of our farm and for our family and our customers."
This is the 11th year for the corn maze.
"It's a lot of fun" Cooper says. "It's something that's really caught on in the last few years, but before that it was pretty niche-y" she says.
In the last five years, she says, a lot more people have gotten into it.
But Cooper's Farm has become the destination and an annual tradtiton for many families.
Last autumn, in their 10th year, Lisa Cooper was delighted to hear tall teenagers sharing their memories.
She describes a sixteen or seventeen year-old enthusing: "I remember, the one with the Blue Jays when I was 10 years-old, it was our very first one".
It' all begins with her husband's very good planting, rows as straight as possible.
Then a company comes in and using what Lisa Cooper describes as grade 6 math, in a graph from A1 to Z1. they pull up the early sprouts of corn according to Lisa's design.
"It's not as hard as it looks, but it's not as easy as it looks"  It takes two young men, working together quickly, and in about six hours they've pulled out the pattern in the field.
This year it's a sesquicentennial theme: Canada's 150th anniversary of confederation.
Last year was when social harvest began. Lisa Cooper said it was the first time she heard people tell her they'd been coming for six and seven years, and teenagers sharing their memories.
She describes a sixteen or seventeen year-old enthusing: "I remember, the one with the Blue Jays when I was 10 years-old, it was our very first one".
The Game of Thrones maze, like the show, was also a popular year.
They're busy with the maze visitors now, but there will be winter shares to provide beginning in November.
Potatoes, parsnips, carrots, onions, beets, garlic, squash and sweet potatoes, as well as some of the produce from a neighboring operation that has greenhouse vegetables and can provide tomatoes, lettuce and cucumbers.
"It's been 24 years now and I learn new things every single day." But Lisa Cooper says she thinks she understands farming now.
And the uproar in Canada in this last week, with the Federal Finance Minister, Bill Morneau, proposing sweeping tax reform to small businesses is hitting the Cooper's hard.
Lisa Cooper is straight forward. "We incorporated because personal tax is 28 per cent, and corporation tax is 16 per cent… thank goodness because that's only 16 per cent that I have to take out of my pocket, you know, to keep on farming"
She says there have been several community gatherings to discuss the issues but Lisa Cooper is not satisfied.
"People come in to talk to them, to try to explain what's going on, and then to have our point of view heard, I think more often than not the point of view doesn't really get taken in to consideration. The people that are coming in are more for, just to say OK yes, we talked to you, we understand you, thank you very much, Have a nice day."
And along with the dismissive attitude, Lisa Cooper is stunned by the speed with which the minister wants to make the changes.
"We don't mind change for certain things, some things should change, but you need some more time to adapt that into your business plan, versus just, OK it's changing next year. Go!"
In the meantime, Cooper's Farm remains the destination for more family traditions visiting the maze and picking pumpkins.