Migrante held the first in a series of rallies today in Toronto, in front of an Immigration, Refugees & Citizenship office, to demand action on the backlog of Permanent Residence applications.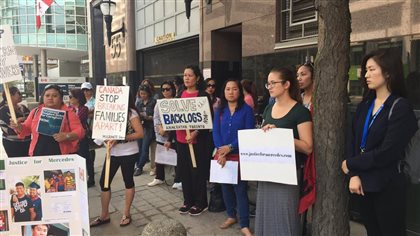 27,000 applications are pending, leaving some people waiting as many as 10 years for the next step to secure a life in Canada.
Migrante is an organisation advocating for the rights of Temporary Foreign Workers and Caregivers.
"The work that Temporary Foreign Workers do, or migrant workers do, is not temporary"
Live-in caregivers are the people who come to Canada to care for small children or the elderly.
They work six days a week, often for very long hours.
But they are the only low-skilled Temporary Foreign Workers who have a pathway to Permanent Residence in Canada, by spending two years working under the program.
Then they're eligible to apply for permanent residence, and to work in other places while they wait, under renewable open work permits.
The challenge is for those who've left families and loved-ones behind.
They can't apply for family reunification, until they have received their Permanent Residence status.
Jesson Reyes, the regional coordinator for Migrante Canada, said the rally today was to pressure the government to do more to process the huge backlog in these applications, to invest in the necessary human resources to deal with the mounting backlog. Each year a new cohort applies.
Listen
"If you're good enough to work here in Canada, you should be good enough to stay"
Reyes said the Liberal government has promised to have the backlog dealt with by October of 2018, but he doesn't see how that is possible at the current rate.
He is hearing reports that the government is offshoring the work to Canadian citizenship centres in places such as Hong Kong.
"The work that Temporary Foreign Workers do, or migrant workers do, is not temporary," says Jesson Reyes.
Of the Caregiver program he says,"this is something that is needed for the Canadian economy, it helps the Canadian economy, the same thing with other industries, when it comes to construction, fast-food."
Reyes says Migrante is demanding that these workers be granted Canadian residency upon arrival.
"If you're good enough to work here in Canada, you should be good enough to stay."