First ministers, the leaders of Canada's ten provinces and three territories, met with Prime Minister Justin Trudeau and some members of his cabinet yesterday in Ottawa.
The occasion began with Indigenous leaders included in the gathering as well.
Justin Trudeau's government has made a visible show of moving toward reconciliation with Canada's aboriginal people, but many criticise the government for their ongoing symbolic efforts coupled with a lack of substantive change.
Leaders representing the First Nations, the Inuit and the Metis peoples, got little more than an hour as part of the gathering, when the First Ministers moved on to meet in private.
Professor Nelson Wiseman is the director of the Canadian Studies program in the Political Science department at the University of Toronto.
He said indigenous people not living in First Nations communities were not even represented.
Indigenous groups now want to be included for the duration of these meetings, and they are demanding a special gathering with First Ministers to exclusively address their concerns.
While Professor Wiseman says "there's much growing consciousness and pride in Canada's indigenous background," he questions how much can be accomplished when there are so many participants.
Listen
Taxes were one of the main topics, yesterday, both the proposed tax reform of small business, that's widely opposed, and the surprise announcement of an excise tax on marijuana that will be legalized in Canada on July 1st, 2018.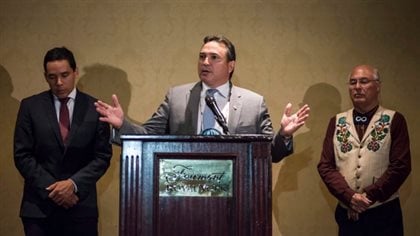 The federal government proposed a fifty/fifty split, of the excise tax.
It is proposing an excise tax of $1 per gram of cannabis for pot sales up to $10, then increasing to 10 per cent of the total price for pot selling at a higher price point.
"The provinces feel, because they're obliged to administer the program, that they should get, if there is any tax, all of it, or a disproportionate amount of it." Professor Wiseman says.
Manitoba Premier Brian Pallister told reporters the "lion's share of the work will be borne by provinces," from drafting new laws and regulations for police forces, for road safety and the cost to municipalities in public education and enforcement.
"I think it reminds me a little bit of the two salesmen who are having a vicious argument about the commission split on a deal they haven't done yet. We don't really know what the ramifications of this are — this is a historic change, we don't know the real cost," Pallister said.
The negotiating around this issue will continue, as each province devises it's own way of overseeing the sale and distribution of cannabis.
Many observers say, however, the most important element to get right is the price, in order to wrest the sales from the black market.
As for the tax reform proposed by Finance Minister Bill Morneau, to close current so-called loop holes in the laws, such as income sprinkling and passive investing to shelter money, Brian Pallister was once again vocal in his objections, accusing the government of creating "class warfare".
"The federal government needs to pull back on its rather misguided proposition that we should have class warfare in our country between small family-run businesses and everyone else. That doesn't make any sense," Pallister said.
And he said the federal Liberals had "poisoned the water" by using words like "loopholes" to describe what the proposed changes will address.
Pallister went on to say, "these are 40-year-old tax rules; people who abided by them for that length of time shouldn't have their integrity impugned with the implication they're somehow cheaters or tax evaders. That's not right or fair," he said.
Professor Wiseman points out that both Manitoba Premier Brian Pallister and Saskatchewan Premier Brad Wall are conservative politicians.
He says they, "style themselves to some extent, as the opposition to the federal government which is Liberal, so they look for divisions with Ottawa, in contrast, most of the other provinces are governed by Liberals so even if they have disagreements they don't like to publicize them as much because they don't want to damage the federal Liberal brand."
The other major issue on the table yesterday was the progress at the ongoing free trade talks between Canada, the United States and Mexico.
The attempts to renew the NAFTA, are slow-going and the deadline of December 2017 is not appearing very realistic at this point.
"The issue is that the Americans haven't spelled out very precisely, certainly not in language in terms of text, what it is that they want." Wiseman says.
"They've made speeches but we don't have text and so the negotiations on that will continue."
Wiseman says even the proposed February deadline is not likely.
With files from the CBC, Globe and Mail, and CP