Pumkins, which many Canadians are buying as we approach the Thanksgiving holiday weekend, may be in short supply in some area of Canada, and more expensive this year as a result.
Particularly in the province of Ontario which was hit with unrelenting rainfall in the early spring.
In May, more than 175 millimetres of rain fell on the Ottawa region, breaking a 31-year-old record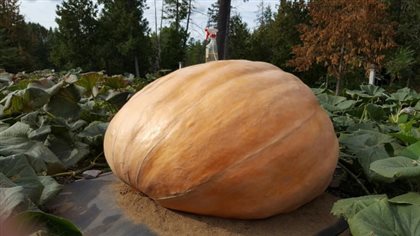 June was not much better with higher-than-normal levels of precipitation also, that led to waterlogged fields in many parts of Southern Ontario.
Due to micro-climates, however, some farmers fared better than others.
Mark Saunders, who is usually harvesting a bounty of a crop, had to travel to a farmer in eastern Ontario and buy 10,000 pumpkins for the customers he has making annual trips to Saunders Farm for the annual autumn rituals around pumpkins.
Pumpkin pie, made from the inside mush of a pumpkin, is a much anticipated desert in many homes at this time of year.
And by month's end, some people will be scrambling to find a pumpkin for the Jack'o lantern tradition on Halloween, October 31st.
You carve out the inside and create faces or designs in the shell that are illuminated from within.
It's usually what lets children know what doors to knock on when they're 'trick or treating".