Chickens in backyards in Toronto were banned until this week.
That's when Toronto City Council voted 23 to 14 in favour of a three-year pilot project.
The debate prompted one coucillor, Giorgio Mammoliti to ask, "What the flock is going on at city hall?" before he walked out on casting his vote on the topic.
"New York City allows this for goodness sakes"
Sarah Doucette is the councillor for Ward 13, known as Parkdale-High Park. She supports the move.
Listen
She says one of the reasons they voted in favour, was the fact that people were already keeping chickens in their backyards.
"We do have backyard chickens, and residents were getting a little tired of trying to hide the chickens, and would like it to be legal."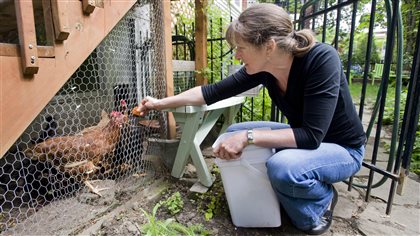 Doucette says, "They don't have a problem with rules and regulations around how many, how you have to look after them, they think everyone should have this option."
She says, "New York City allows this for goodness sakes. Chicago, closer to home, Guelph, just to name a few places which already have this and have had it for quite a long time.
The project, underway in three other wards of the city, will be reviewed in 18 months.
Only residents with backyards will be allowed to participate, and they can have a maximum of four hens, but no roosters as they would disturb the peace early in the morning.
The chickens must be provided a properly built coop that will protect them from some of the other creatures that roam Toronto's backyards, such as the raccoons and skunks.
And people have to be respectful of neighbours who may object to the placement of a coop against a mutual fence.
The eggs cannot be sold, they're for personal consumption only.
Sarah Doucette, who hails from England, says her brother keeps chickens there and
To help people who may want to give it a try, there is a company that will rent both the chickens and coops, as well as some of the food, to residents for the season, and then collect it all before the winter, if people want.
Doucette says Toronto doesn't have any rules about what is a pet and what is an animal.
People can have rabbits, whether they are pets, or will be eaten at some point, that's up to them.
Ward 13 is home to some tony real estate, but Doucette says there has been no major opposition, other than to express concern over the safety and welfare of the animals.
People will have to register, which will allow city inspectors to keep track and check on the conditions.
Sarah Doucette says it's all part of the growing Green movement that has people growing more vegetables in their gardens.
"i know for a fact, that fresh eggs, straight from a hen, have a very different flavour than the ones we have to buy in the store these days. Doucette says.
"They are amazing; colour is different, taste is different, you can really, really taste the difference in the freshness."
With files from CBC
For more information:
http://torontochickens.com/website/