'Please offer me a seat' is the great idea one woman in Toronto developed to help herself, and many other transit users in Canada's largest city.
Kate Welsh came up with 'Equity Buttons'.
An artist, educator and self-described activist, Welsh told CBC Radio this week, that she designed the buttons for people who may appear well, but are often not.
'My Disability in Invisible'
Those who suffer with episodic conditions such as, multiple sclerosis, fibromyalgia, chronic pain and HIV, for example, may need a seat when travelling on the TTC.
"Some days, I'm having a good day and I'm okay standing, and some days, I'm having a bad day and I'm not feeling well and I really need to sit," Welsh explained.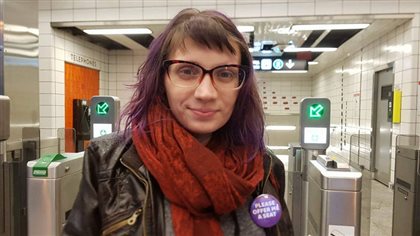 "As a young person, I often am not offered a seat if I need a seat, so I created this initiative for people like me." she said.
The buttons, or pins, are available in purple, green and blue with requests or statements: "Please Offer Me a Seat" and "My Disability is Episodic" or "My Disability is Invisible."
Others feature an image of a person holding a graph with a line that goes up and down to suggest the unpredictable nature of a disability or illness.
Welsh said the buttons have been working, and in many cases, people don't even have to ask for a seat. TTC riders will see a button and simply offer their seat.
"I've heard stories of people saying that they feel more confident sitting and taking up space that they need to take up." Welsh said,
And she is pleased the buttons themselves are helping to raise awareness.
"I started this initiative as a very practical thing. I would like our society to understand that disability is not just about a wheelchair or a cane. Disability can depend on the person's experience," she said.
Stuart Green, spokesperson for the TTC, said the transit agency has no problem with the buttons.
"If people wish to wear a button that passively asks for a seat for any reason (pregnancy, disability), that is absolutely their right," he said in an email.
"People, of course, can also politely ask for a seat if they feel comfortable doing so."
Meanwhile, Transport for London in the U.K., is running a similar program with a button and card for those who may need a seat because they have impairments, conditions or illnesses, short term or long term.
The TTC is monitoring both programs.
With files from CBC
Kate Welsh created a simple, polite way for people with episodic or invisible disabilities to ask for a seat when riding
Toronto's public transit system. They're called Equity Buttons.