Hilary Clinton was in Montreal last night, addressing a crowd of 2,000 people at the Palais de Congres.
It was the second Canadian stop on her 15-day tour promoting her new book.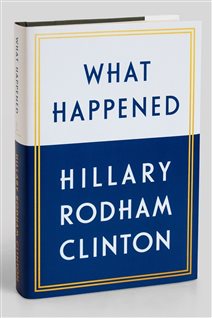 Clinton limped onto the stage, her fractured foot in a boot. It was explained that she'd injured it, falling on a flight of stairs.
"I felt like I'd let everybody down"
When she was seated she took control of the room and shared her story and her insights into the 2016 U.S. election campaign.
With humour and candour she reflected on the shocking defeat not yet, a year ago.
She was frank about how difficult it was. "I felt like I'd let everybody down."
She hadn't even prepared a concession speech, she said, but when the time came she asked people to give President-elect Trump, a chance.
She shared some lessons with the audience last night, that appeared to be equally divided between men and women.
First she said, everyone gets knocked down, the important thing is getting back up again.
While she did have days when it was difficult to get out of bed, she said she spent her time watching HGTV, reading novels, including Quebecer Louise Penny's latest, and organising her closets, all while enjoying her "fair share of chardonnay".
Attending the presidential inauguration in January was an obligation as a former First Lady, she said.
She considered not attending, but honoured her duty describing it "as a very strange experience".
It was "like a root canal on steroids" she said.
She said she realised people were content with her "serving" in several capacities, but when she felt ready to "lead", many people, particularly men in the Republican party, were not going to have it.
And, she stressed, "there is no such thing as an 'alternative fact'."
She expressed her admiration for Canada pointing out that no two countries trade more.
"I so admire your commitment to a diverse society. It is a lesson to other countries, including mine." 
Hillary Clinton said the book came out of her own need to understand "what happened".
And she was grave in her warnings last night. She says we are in "a new kind of cold-war".
With Russian operatives "weaponising information" such as the ludicrous accusation that she and her campaign chairman, John Podesta, were running a child-trafficking operation out of a pizzeria in Washington, these fictions are dangerous when Facebook is now the largest news platform.
When there was a chuckle in the audience, she cautioned that some people prefer to believe the propaganda, and "if it's secret it may be more true".
She questions the actions and responsibilities of big tech companies in an election year, and says these developments are "insidious and subversive to democracy."
She warns there are ongoing efforts to destabilize and dismantle the democratic achievements in western society, describing it as a "clear and present danger."
The United States has growing structural problems Clinton said, with a Republican party that works to shrink the electorate, denying votes to many blacks and poorer citizens.
She says the "free and fair" elections she tried to champion elsewhere in the world as Secretary of State, are now threatened in her own country with a "cabal of billionaires" able to throw huge sums of money at the challenges.
"You gotta' keep getting energised", she advised, "It gets exhausting".
Hillary Clinton's new initiative is called "Onward Together". It's her response to the wave of activism she says is now inspiring her.
Today, Louise Penny tweeted a description of the great evening they had dining at a local restaurant after the event last night.
The meal included a cake for Hilary Clinton's 70th birthday, which is tomorrow.
At the end of the evening, when the party of six got up to leave, the other patrons erupted in applause.