The word "hell" doesn't begin to describe it, but that was the only word that came close to describing the Third Battle of Ypres also known as the Battle of Passchendaele and used by survivors.
After British, Australian and New Zealand forces had been thrown into the battle at astronomical cost with little gain, British Commander Sir Douglas Haig, desperate to save his job in the face of horrific losses, called in the Canadians.
One hundred years ago, the Canadians succeeded in capturing the slight Passchendaele ridge, and the piles of rubble that had been the town.
Tim Cook, is an historian-Canadian War Museum,  author and military/historical commentator
Listen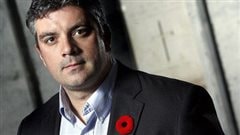 British Commander Sir Douglas Haig began the battle in July in an effort to weaken the Germans and free the Belgian ports which would simplify the Allied supply lines.
After the enormous Canadian-led success at Vimy in April, he had earlier requested the Canadians create a major diversion to the south to draw off German reserves as he battled in Flanders.
In August, in an entirely Canadian operation, the strategic high ground of Hill 70 overlooking Lens, France was captured in an amazing success.
Now the Canadians were ordered to Belgium to relieve the British effort and capture Passchendaele.
Canadian General Sir Arthur Currie, always mindful of not wasting the lives of his troops surveyed the battleground and declared it almost impossible and even unnecessary . "Leave the mud to the Germans" he said.
"We could not believe that we were expected to attack in such appalling conditions. I never prayed so hard in my life. I got down on my knees in the mud and prayed to God to bring me through." – Private Pat Burns, 46th Canadian Infantry Battalion, Passchendaele, November 1917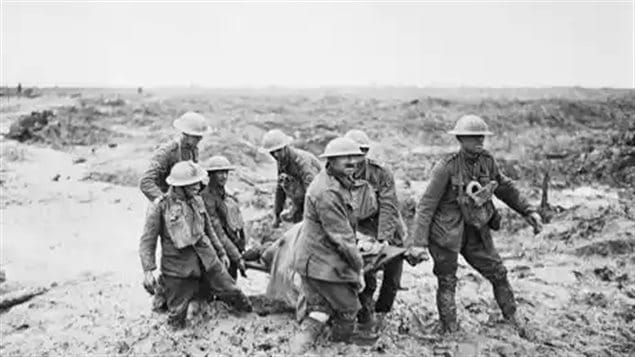 He also said, the Canadians could do but it, but it would result in about 16000 casualties.
…At last we were under enemy gunfire and I knew now that we had not much further to carry all this weight. We were soaked through with rain and perspiration from the efforts we had been making to get through the clinging mud, so that when we stopped we huddled down in the nearest shell hole and covered ourselves with a groundsheet, hoping for some sort of comfort out of the rain, and partly believed the sheet would also protect us from the rain of shells. I shivered alongside Stephens who was a quiet, kindly and refined lad having his first taste of the front line. Together we huddled in this hole when there was a great thump behind us, but mercifully that shell failed to explode. As the shelling grew worse it was decided we had better move on, so reloading ourselves we pushed through the mud again and amid the din of the bursting shells I called to Stephens, but got no response and just assumed he hadn't heard me. He was never seen or heard from again. He had not deserted. He had not been captured. One of those shells that fell behind me had burst and Stephens was no more.
– Private John Pritchard Sudbury
Wounded at Passchendaele 26 October 1917
The drainage systems for the low-lying ground had been blown up by the millions of shells, and the rains had never really let up turning the vast area into a quagmire. Canadians had to slog their way through the gumbo across open ground while Germans in hardened concrete bunkers sprayed them with machine guns and shells.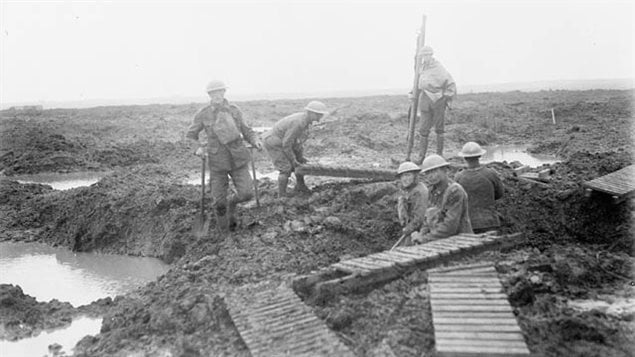 Entire guns would simply sink into mud, as did soldiers and horses both living and dead, while many would drown if they fell into the water filled shell holes.
'There was not a sign of life of any sort. Not a tree, save for a few dead stumps which looked strange in the moonlight. Not a bird, not even a rat or a blade of grass. Nature was as dead as those Canadians whose bodies remained where they had fallen the previous autumn. Death was written large everywhere.' Pte R.A. Colwell, Passchendaele, January 1918.
The battle is estimated to have cost somewhere in the neighbourhood of 270,000 Allied lives, and slightly fewer German lives; at least half a million lives, all for a few kilometres of ground.
And, Currie would prove prophetic on all points. Canadians succeeded in taking Passchendaele, but at the cost of almost 16,000 dead, wounded, and missing
For the Canadians, Passchendaele signifies another victory, 100 years ago this week, under horrific conditions and against all odds. Nine of the highest honour in the Empire, the Victoria Cross, were awarded to Canadians in this battle.
For everyone else, it represents a useless bloodbath and waste of young lives due to the insensitivity and incompetence of the British Commander who came to be known as "Butcher Haig". Currie was also prophetic about the battle not being necessary. The hundreds of thousands dead, all for a patch of ground that did not achieve the objectives hoped for, was reoccupied by the Germans the following spring after the Canadians were assigned elsewhere.
Royal Canadian Legion- YouTube
Additional information