Canada and the 10 other Trans-Pacific Partnership countries reached an agreement on Friday on "core elements" of the free trade pact, pledging to adhere to strict labour and environment standards, hours after the talks nearly collapsed earlier in the day.
However, there is more work to be done before a final agreement in principle is ironed out as 11 Pacific nations seek to salvage a trade deal, which nearly sank after President Donald Trump bailed the United States out of the original 12-nation accord, covering 40 per cent of the world's economy.
The remaining 11 members of the TPP, including Canada, represent 494 million people, with a combined GDP of $10.2 trillion US, or about 13.6% of global GDP, according to Global Affairs Canada.
Combined, the TPP countries will eliminate over 95 per cent of their tariffs, with the vast majority to be eliminated immediately upon entry into force, according to Canadian officials.
"We are pleased that progress is being made towards a possible agreement, but there is still some work to be done," International Trade Minister François-Philippe Champagne said in a statement. "Our priority is to ensure that it is the right deal for Canadian workers and businesses. We will only sign onto a deal that reflects Canada's interests and meets our objectives to create and sustain well-paying middle class jobs in today's competitive global economy."
The original TPP signed by the previous Conservative government in October 2015 included strong provisions that demanded all member countries eliminate child and forced labour, adopt and maintain laws and practices governing "acceptable conditions of work," and uphold the right to collective bargaining.
But some countries, including Malaysia and Vietnam, sought to opt out of such provisions during the talks, something Canada felt was untenable.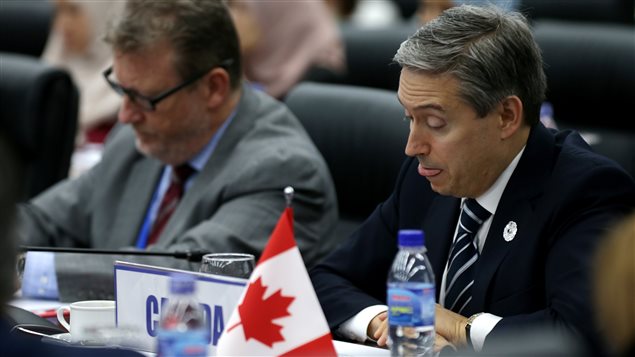 Those countries have now come back onside, Champagne told CBC News, and have agreed to the terms of the original TPP.
"We got a better deal for Canada, we were also able to enhance the progressive elements — as the prime minister says you don't do trade in the 21st century like you did before," he said.
The negotiators put aside some of thornier issues to be negotiated later, Champagne said.
These include to changes to trade rules related to the auto sector and culture.
"Particularly when it comes to culture, when it comes to the auto sector, you'll bet that we'll take the time to consult with stakeholders to get the deal done," he told reporters.
With files from John Paul Tasker, CBC News