The agreement between Myanmar and Bangladesh covering the return of Rohingya Muslim refugees is a step in the right direction but needs to meet several conditions before it is implemented, Canada's International Development Minister Marie-Claude Bibeau said Thursday.
Myanmar, also known as Burma, announced the agreement but provided no details on how many Rohingya refugees who fled a brutal crackdown in the country's Rakhine state would be allowed to return home. Bangladesh said the repatriations are to begin within two months.
More than 620,000 Rohingya have fled from Myanmar into Bangladesh since Aug. 25, when Burmese security forces began what they called "clearance operations" following an attack on 30 police posts by a group of Rohingya militants.
'A good thing in principle'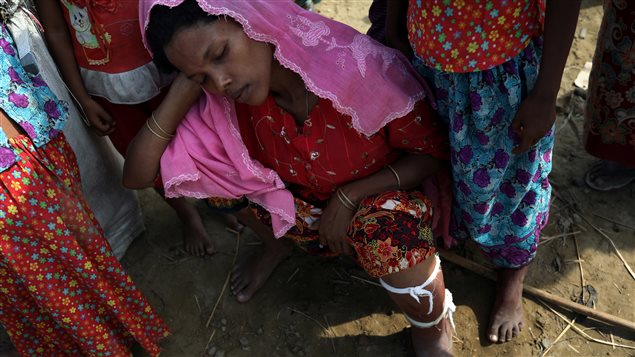 Speaking to reporters in a teleconference call at the conclusion of her three-day trip to Bangladesh, where she also visited Rohingya refugee camps, Bibeau said the agreement was "a good thing" in principle.
"We haven't seen the terms of the agreement but we hope we would see what was recommended in the Kofi Annan report, that the rights of the refugees would be respected, that they would be going back voluntarily," Bibeau said, referring to the final report of the Advisory Commission on Rakhine State, chaired by the former United Nations secretary general.
Presented just a day before the Burmese military launched its latest crackdown on Rohingyas in August, the report recommended that the Myanmar government take concrete steps to end enforced segregation of Rohingya Muslims in the majority-Buddhist country.
It also called on Burmese authorities to ensure full and unfettered humanitarian access throughout the Rakhine state, tackle Rohingya statelessness and "revisit" the 1982 Citizenship Law, which essentially stripped the Rohingyas of their Myanmar citizenship rights.
The report also recommended holding perpetrators of human rights violations accountable and ending restrictions on freedom of movement.
Devil in the details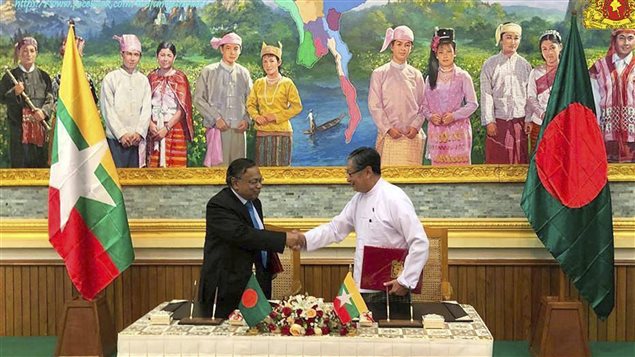 The office of Myanmar leader Aung San Suu Kyi said the deal signed Thursday by cabinet officials in Myanmar's capital, Naypyitaw, follows a formula set in a 1992 repatriation agreement signed by the two nations after an earlier spasm of violence.
Under that agreement, Rohingya were required to present residency documents, which few have, before being allowed to return to Myanmar.
Many of the Rohingya refugees she spoke to told her that they would be willing to go back to Myanmar but only if their basic human and property rights were protected, Bibeau said.
"They want to have the right to work, they want their kids to go to school, this is what they've been telling me," Bibeau said.
Priority is basic human rights and needs
But Bibeau said it was too early to talk about sanctioning Burmese military and civilian officials who have been involved in the crackdown against Rohingyas, described by the UN as a "textbook example of ethnic cleansing."
"Definitely something will have to be done," Bibeau said, referring further questions about sanctions to her cabinet colleague Foreign Affairs Minister Chrystia Freeland. "But we're talking about humanitarian assistance and basic human rights right know."
The priority right now is improving services in the overcrowded impromptu refugee camps that have sprung up along Bangladesh's border with Myanmar's Rakhine state, Bibeau said.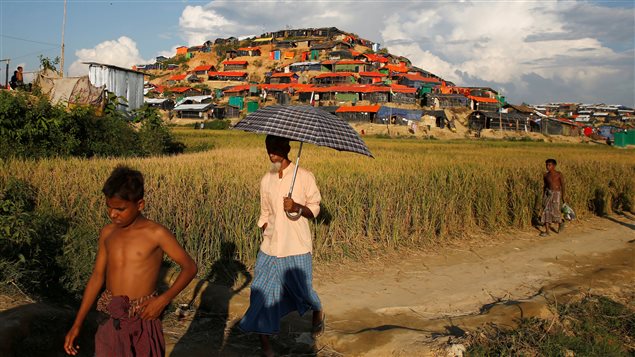 While praising Bangladesh for hosting over a million Rohingya refugees, Bibeau said security and living conditions in the camps need to be improved.
Bibeau said she was told by some women she met at the camps in Cox's Bazar, Bangladesh, that they don't eat or drink anything in the afternoon because they are terrified of going to the communal latrines at night for fear of sexual assaults and violence.
Counting on Canadian generosity
Canada has already contributed over $25 million to the UN and humanitarian agencies working on the frontlines of the Rohingya refugee crisis.
In late October, Ottawa also announced the launch of the Myanmar Crisis Relief Fund, pledging to match dollar for dollar donations made by individual Canadians to humanitarian organizations working to support Rohingya refugees.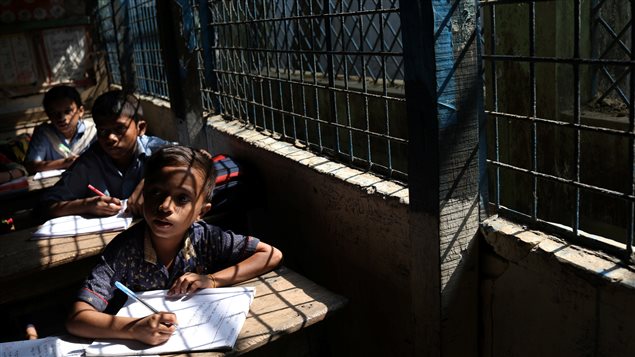 Speaking to Radio Canada International from Cox's Bazar, Bill Chambers, CEO and president of Save the Children, praised Ottawa's efforts and urged Canadians to show their generosity.
"This is not a short-term problem," Chambers said, speaking on behalf of the Humanitarian Coalition, an umbrella group of seven Canadian humanitarian NGOs. "This will be a more protracted problem and the process of creating a safe environment for these people will take some time."
The immediate needs are safe drinking water and sanitation, food and shelter, he said.
But in longer term the refugees, especially young women and girls, would need help dealing with the physical and psychological effects of trauma they suffered during the pogroms of Rohingya villages by Burmese security forces and Buddhist vigilante mobs, as well as access to education, vocational training and tools to resume normal life, said Chambers who was visiting programs ran by Save the Children and other members of the Humanitarian Coalition.
"Almost every child has seen and experienced things that no child ever should," Chambers said. "They have told us of massacres, multiple rapes, abductions and seeing family members burnt alive."
Funding for sexual and reproductive rights in Bangladesh
While in Bangladesh, Bibeau also announced a $35 million initiative to improve awareness of and access to sexual and reproductive health and rights for nearly two million women and girls in Bangladesh.
The five-year project, which is separate from the funding for Rohingya refugees, will also provide expectant mothers, newborns and children with essential health services and is expected to save more than 15,500 lives, Bibeau said.
With files from The Associated Press