The endangered North Atlantic right whales trapped in prolonged entanglements in fishing gear exhibit "sky-high hormone levels," indicating stress from extreme physical trauma, according to a new study.
The study published this week in Endangered Species Research, has been the result of 15 years of research examining fecal samples from right whales, using a special technique to examine and measure hormones in the excretions, said Rosalind Rolland, the study's lead author and a senior scientist in the Ocean Health and Marine Stress Lab at the Anderson Cabot Center for Ocean Life at the New England Aquarium.
Using this technique, researchers can tell the level of stress a living or dead animal has endured based on the presence of stress hormone cortisol in fecal samples, Rolland said in an interview with Radio Canada International.
"What we have found was, whales that die quickly – whales that are hit by a large ship are killed very quickly – their stress hormones look very normal, they haven't had time to mount a stress response, whereas whales that are chronically entangled for months and die slowly had sky-high levels of these stress hormones," Rolland said.
Listen
Protecting right whales
The study's results come as authorities in Canada and the United States scramble to introduce new measures to protect the North Atlantic whale population in the Gulf of St. Lawrence and off the Northeastern Coast of the U.S. following a particularly deadly summer for the highly endangered cetaceans.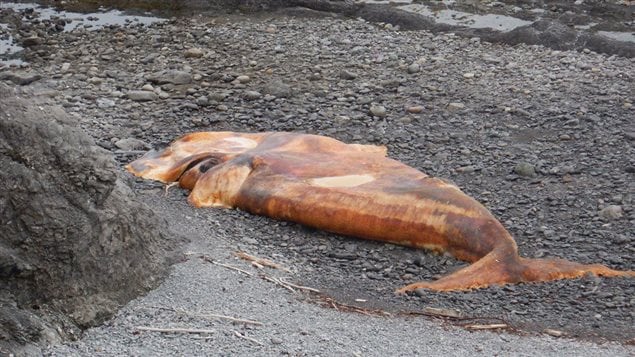 There were 17 right whale deaths – 12 in Canada and five in the U.S. – due to vessel strikes and entanglements for a population that now only numbers around 450, Rolland said.
"It's clearly not sustainable," she said. "There are definite management changes, which need to take place in places like the Gulf of St. Lawrence where whales have not been before."
Rolland praised Ottawa's efforts to introduce measures such as introducing mandatory speed limits for large ships going through the Gulf of St. Lawrence and changes to fishing practices in order to protect the whales.
Changing fishing practices
The results of the study confirm and illustrate the extreme levels of physical suffering the whales go through before they die when they get entangled in fishing gear, she said.
"We really need to find a way to fish without getting whales entangled," Rolland said. "Even when they are not killed, we know that these entanglements in fishing gear affect their body condition and that females reproduce less."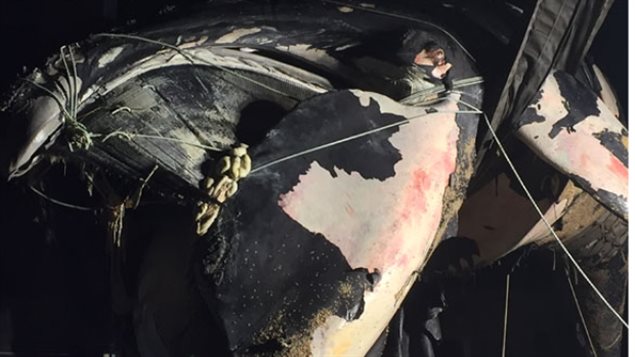 According to an analysis by the Anderson Cabot Center, 83 per cent of all North Atlantic right whales have had at least one entanglement with more than half of those animals experiencing more than one interaction with fishing gear, Rolland said.
"And this is not just a problem for right whales, it's a problem for all large whales and all cetaceans worldwide," she said.
The method developed by the researchers also allows them to look at stress levels of living whales, Rolland said.
"Therefore the method can be used to study the response of living whales to various things in their environment, which might be a problem for them," Rolland said. "And that gives us a good handle on different factors affecting right whales such as underwater noise, perhaps seismic exploration."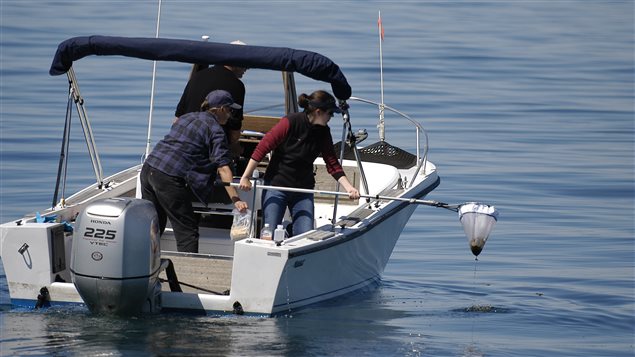 From 1999 to 2014, the scientists collected samples of fecal matter from 125 different right whales: 113 healthy whales,  six whales which were chronically entangled in fishing lines; one that was stranded for several days but living; and five killed quickly by vessel strikes.
The technique they developed can also be used to look at the time course of death, she said.
"Whales that die rapidly like from a ship strike the stress hormones will look normal," Rolland said. "And whales that die over a period of time are able to mount the stress response and you'll see higher hormones in those whales. So it could be a very helpful tool for helping us determine the cause of death and when we don't know what it is."
The problem of protecting the right whales is being compounded by the fact that since 2011 there have been huge shifts in their habitats, she said.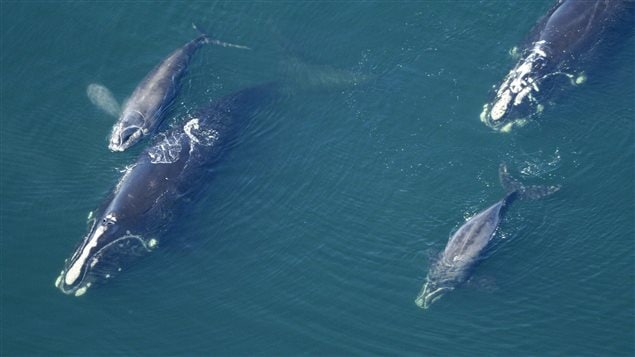 Fewer whales started appearing in the Bay of Fundy and off the southern Nova Scotia shelf, with larger numbers appearing in the Gulf of St. Lawrence where they weren't seen in large numbers previously.
"What we do know is that the Gulf of Maine is warming faster, the water temperature is warming faster than 99 per cent of bodies of water on the planet," Rolland said.
That affects the prey that right whales eat, a very small temperature-sensitive copepod, she said.
"What we believe is happening that the distribution of the right whales' food has changed and it's actually further north and their having to travel further north and potentially further offshore in order to find enough food," Rolland said.