Just a day after Canada and China failed to agree to begin the much anticipated free trade talks there is new hope that the two countries will indeed begin formal negotiations soon.
Prime Minister Justin Trudeau capped the first leg of his China trip in Beijing on Tuesday with a meeting with President Xi Jinping as Canadian International Trade Minister Francois-Philippe Champagne worked behind the scenes to resuscitate the failed attempt.
The meeting with Xi, the most powerful Chinese leader in a generation, went a lot more smoothly than Trudeau's Monday meeting with Chinese Premier Li Keqiang, where they were not able to announce the start of formal free trade talks that would move beyond the current phase of exploratory discussions.
Trudeau said he remained hopeful that Canada and China could forge ahead with a full-fledged trade deal that he said would benefit working people in both countries.
And Trudeau's meeting with Xi may have fuelled those hopes further, apparently enough for the prime minister to leave Champagne in Beijing to continue the trade talks with his Chinese counterpart while Trudeau and other members of the cabinet flew south to the city of Guangzhou for the Fortune Global Forum, a major conference of international business leaders.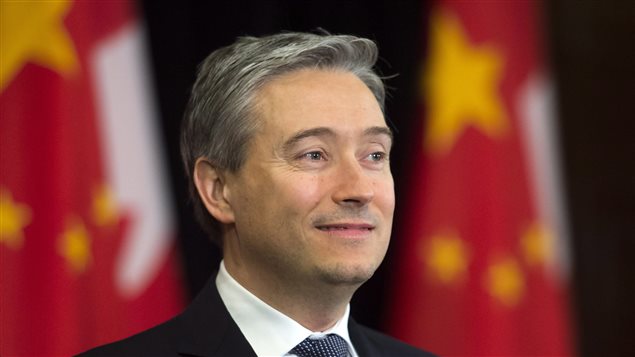 "We will continue to deal with multiple different ways of benefiting our two countries as we work together, whether or not there are formal negotiations or exploratory talks," Trudeau said.
"We are constantly engaged with our Chinese counterparts to ensure there are opportunities for our citizens."
Trudeau characterized Canada's quest to secure free trade deals with China, other Asian and Pacific nations, as well as the U.S. and Mexico through a renegotiated NAFTA, as part of Ottawa's attempt to resist the protectionist tide sweeping through the U.S. and many other countries.
"It's a time where there is much political space given up in various countries for populism or resurgent nationalism. And Canada stands strongly as a country that is making a case for international trade that benefits everyone. We will continue to do that," he told reporters before his meeting with Xi.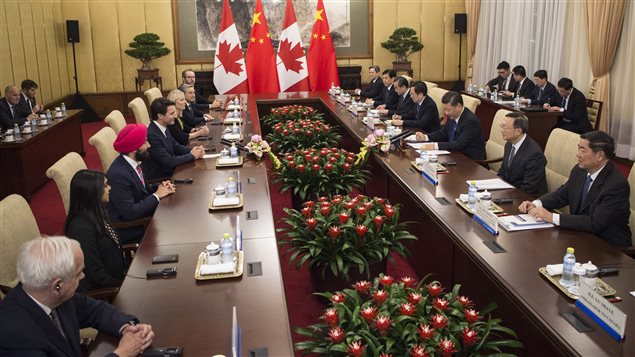 Trudeau told a large boardroom of three-dozen business leaders on Tuesday morning that China and Canada are continuing their exploratory discussions on a comprehensive trade deal.
The government wants to establish a framework with China that would broaden the talks to include the environment, governance, labour and gender issues before deciding to formally begin trade negotiations.
"We know that creating a strong framework in which investments and businesses and the rules that surround the operations of Canadian companies in China, and Chinese companies in Canada will be laid out, and predictable, is something that everyone is looking for," Trudeau told the business leaders off the top of their one-hour closed door meeting.
"I know how important predictability and smooth understanding of the context in which we are, is important for business decisions."
With files from Mike Blanchfield of The Canadian Press and Chris Hall of CBC News