It's the quintessential Canadian Christmas concert.
But don't count on hearing the usual fare of familiar Christmas tunes.
What the Orchestre symphonique de Laval (OSL) has in store for its Dec. 13 concert in Laval, the northern suburb of Montreal, is a mix of symphonic music that will take you on a musical journey throughout the world and through Canada's rich cultural fabric.
Conducted by Alain Trudel and accompanied by the Petits Chanteurs de Laval choral group, the OSL wants to take the audience on a journey from Moorish Andalusia, to a mountain stream in Armenia, to the vast expanses of Russia, with stops in Africa, Syria, France, Ukraine, England, Latin America and, of course, Canada.
Zaven Zakarian, a Lebanese-born Armenian-Canadian clarinettist who has been with the OSL since 1987, said the idea of this musical journey through time and space came from Trudel, who's not only the conductor of the orchestra but also its artistic director.
"Laval is a multiethnic city, we have communities from many different parts of the world," Zakarian said. "And in a way it was quite clever from the point of view of selection of these pieces on the part of our maestro: we have an Arabic community, we have a Greek community, we have Ukrainian, we have Armenian.
"He very skillfully selected pieces that represent the cultures of these communities who live around us, around the orchestra, because one of the aims of the orchestra is to serve the community."
Listen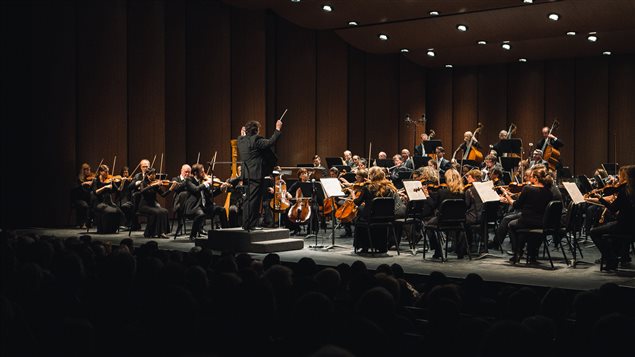 For example, Trudel has chosen a well-known tune arranged for a string orchestra that comes from Medieval Andalusia, which was ruled for hundreds of years by the Islamic Umayyad dynasty from Syria.
"This was a period when a lot of different cultures lived together," Zakarian said. "A lot of different religions lived together, whether it's Muslim, Jewish and Christian, and they not only lived together they produced together."
Another piece that will be played by the orchestra was created by Armenian-Canadian composer Petros Shoujounian, Zakarian said.
"It has an Armenian liturgical element in his composition," Zakarian said. "Although it is not traditional per se, but it involves part of the melodies of Armenian liturgical music."
The piece is called "Gedik" or a small river, a stream in Armenian.
"It has a double meaning, because rivers give life to earth, the river also spreads life all around just as culture does," Zakarian said.
The Canadian portion of the concert will be presented by Quebec folklore-inspired music, Suite folklorique by André Jutras and First Nations music as well, Zakarian said.
"In the Canadian segment it's more about the music of First Nations, the Indigenous people of Canada, of course, these are arrangements for the orchestra," Zakarian said.
The music is a a tribute to Canada's Indigenous heritage, he said.