A decade of being stalked, led Julie S. Lalonde to release a short animated film about what happened with information and advice for those who are stalked and their friends and family. The film is called Outside of the Shadows: A Project on Criminal harassment in Canada.
Listen
'Felt that this was going to kill me'
"It really is, at the end of the day, for me, a love letter to my 20-year-old self who had no luck with police, who really honestly felt that this was going to kill me," says Lalonde. "So, to be here in my early thirties still alive, still thriving, still working, still here is incredible to me."
Lalonde was stalked by her ex-boyfriend "in every way imaginable"—in person, at work, through messages on her phone and on her car. Every new email account she created was hacked, if she appeared in online news posts her ex would comment. He followed her, monitored her movements. She moved homes several times and he once rented an apartment across from her so he could monitor her movements.
Victim feared the stalking would escalate
She went to police who she says did not respond immediately. When they did contact her months later she had already decided to deal with the stalking on her own and she was afraid that if police intervened the abuse would escalate.
Then two years ago her abuser suddenly died in a car crash.
Stalker's death was not the expected relief
People assumed she would feel relieved. But she says it doesn't feel real that the ordeal is over. That's in part, because it went on for so long and also because, for the decades she was being stalked, the only way she could survive was to tell herself that it would go on forever.
"That sounds really counterintuitive to most people, but it was my way of trying to cope," she says. "Because every time I would tell myself 'okay, this is it, I'm not going to hear from ever him again,' if he would go quiet for a couple of weeks or a couple of months. Then when I did hear from him I completely fell apart because I had just invested so much hope in the fact that it was over. So, for my sanity I told myself 'okay, this is never going to end. It will forever be a part of your life. And the only thing you can control is how you react to it.'"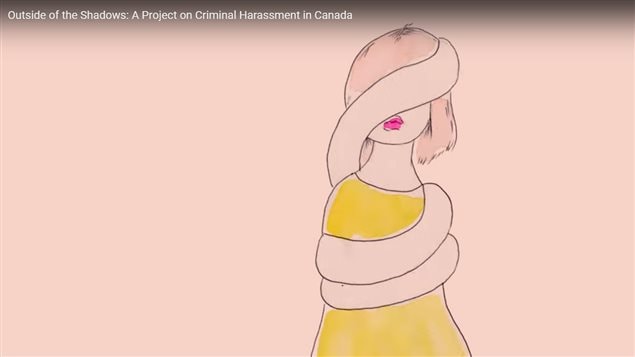 'Fear is all I know'
After he died, Lalonde had to figure out what to do with this game plan she had created. Dealing with the stalking had consumed her life from the age of 20 to 30. As she put it, when most people are travelling, dating, making mistakes and learning about themselves, Lalonde was living in fear: "It's difficult to recover from that. It's difficult to become a fully-fledged human being, an adult woman living in this world not living in fear because it is literally all I know."
She sees herself as both a victim and an advocate for others. And making the film was one of the ways to help her recover: "For me, it was important for my healing to create a resource—the kind of resource that I needed when I was struggling."
Film may be 'just the beginning'
The film was created with the help of the artist, Ambivalently Yours and 87 individual donors. It is now on YouTube and Lalonde thought that would be the end of it. But she has had many offers of support and funding and may take the project further by creating a longer film or offering more articles and resources on her website: "This was supposed to be the be-all, end-all for me but now there's a sense that this is just the beginning."
Criminal harassment is against the law in Canada. But victims often lack confidence police will investigate thoroughly or that they will get justice through the courts.
See video Outside of the Shadows: A Project on Criminal Harassment