Marine Atlantic, the company that operates the ferries connecting Newfoundland to Nova Scotia, cancelled the crossings yesterday and today due to severe weather.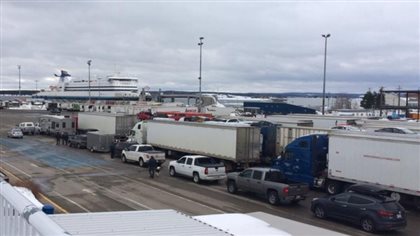 Cabot Strait crossings will be limited over the next few days,due to gale-force winds
The cancellations mean, despite the best of plans, and early reservations on the ferry, many people may not be getting home for Christmas.
Marine Atlantic cancelled its 11:45 a.m. and 11:45 p.m. crossings between North Sydney, in Nova Scotia, and Port aux Basques, Newfoundland.
With no let up in the wind for this coming weekend, Marine Atlantic issued an advisory saying crossings on Saturday December  23rd, and Sunday, Christmas Eve, could also be affected.
The advisory allows passengers who may want to make other travel arrangements the possibility.