Winter began at 11:28 est. in Montreal, Quebec today.
The sun rose into a clear sky but the winter temperatures were a surprise after a day or two of relatively mild weather.
Minus 22 C, with the wind chill, was a bit of shock to most commuters.
David Phillips, senior climatologist with Environment Canada, says as the second-coldest and snowiest country in the world, almost 95 per cent of the country will have a white Christmas.
Listen
Even Toronto, where there`s only been snow on the ground at Christmas, three times in the last eleven years,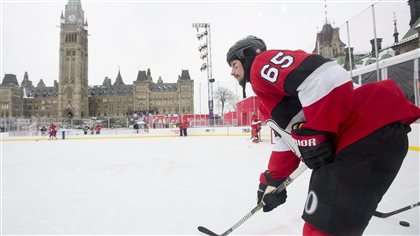 The city is preparing for up to 15 centimetres tonight.
And Dave Phillips says this comes after the warmest Sept
Meanwhile, the western prairie provinces are digging out from snow earlier this week.
Most of Ontario and Quebec are guaranteed a White Christmas as the system is currently tracking east.
Newfoundland got a severe storm on the Atlantic coast that has halted the ferry service this week over the Cabot Strait to Nova Scotia.
The cold and snow are good news for the Canada 150 Rink, the last event in this year honouring Canada's Sesquicentennial celebration of Confederation.
The rink, built on 'the lawn' of Parliament Hill in Ottawa, opened on December 7th, and was to close on January 1st, 2018.
Heritage Minister, Melanie Joly, however, announced an extension that will keep the rink open into the month of February when the capital city celebrates Winterlude.