Most Canadians born before 1995 have had chicken pox and are at risk of developing the horribly painful disease, shingles. But a new vaccine offers an over 90 per cent chance of preventing shingles.
'Terrible' nerve pain can last weeks, months
"For many people shingles is a fairly minor disease," says Dr. Allison McGeer, director of infection control at Mount Sinai Hospital in Toronto. "But for a significant subset, with shingles comes this terrible neuralgic pain which can last for weeks or months. And it's that level of pain and the degree of pain that makes us want so very badly to prevent people from getting shingles."
Listen
Canadian children born after 1995 were most likely vaccinated against chicken pox. Almost everyone born before has had the disease. The virus stays in the body and can emerge, particularly in the older person, as shingles and its accompanying rash and pain.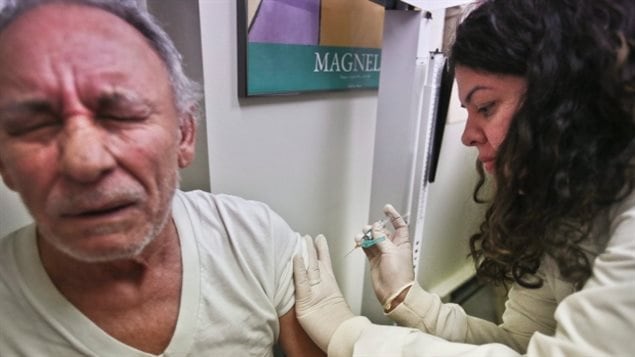 Chicken pox less prevalent in equatorial countries
Out of all Canadians who have had chicken pox, 28 to 35 per cent will get shingles and of those who do, one in five will experience severe pain. Chicken pox is more prevalent in temperate climates and much less common in equatorial countries.
"Because shingles is a disease of older people, you see more and more of it as your population ages," says McGeer. "It's also a disease that is much more common in people who are immune compromised."  Throughout the world there are more people who have had bone marrow or organ transplants, cancer treatments, or treatment for diseases like rheumatoid arthritis and these weaken the immune system making people more vulnerable to shingles.
Newer vaccine found to be more effective
Many older Canadians have sought the existing vaccine against shingle Zostavax. But it is only 70 per cent effective in protecting people between the ages of 50 and 65 and even less so in older people. It is also unclear how long the protection lasts.
Testing suggests a new vaccine called Shingrix is more than 90 per cent effective, even in the elderly, and it has lasted the three or four years that it has been tested. Shingrix has been approved by the Canadian government and should be available sometime this month, but it is expensive at $244 plus pharmacy dispensing fees.
Seniors should get vaccinated, says doctor
Most vaccines are paid for by governments in Canada, but the process can be long and it may be a few years before Shingrix is covered. In the meantime, McGeer says older Canadians who have had chicken pox should definitely get it. If they have recently received the Zostavax vaccination they might wait a few years while that vaccination is still effective in hopes that governments will offer the new Shingrix for free after that.
People who develop the typical rash and stabbing pain may be able to stave off an attack of shingles if they take antivirals within 72 hours,