New types of war, new environments, new types of vehicle.
It may remind some of the British SAS Land Rovers, or the now gone versions of the Canadian Iltis, perhaps the U.S. dune buggy like, Chenowth FAV, or perhaps even further back into WWII the Canadian stripped down CMP's used by the British Long Range Desert Patrol group.
Perhaps it has the lineage of all of the above.
The Canadian army, has just received the first of a new batch of highly specialized vehicles.  They will be destined for "special operations" forces or the  "Canadian Special Operations Forces Command (CANSOFCOM).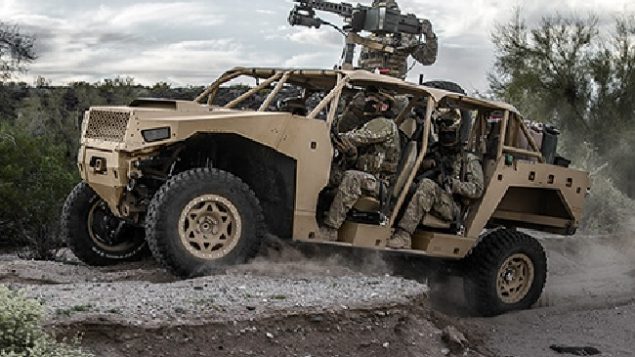 Built by Polaris Industries Ltd of the U.S.,  the "Dagor" is designated by the Canadian Forces as and Ultra-Light Combat Vehicle (ULCV).
Canada's Minister of Defence, Harjit S. Sajjan, is quoted in a military press release saying, "I am pleased to see this example of successful procurement – delivered on time and on budget. The Government of Canada must provide the men and women of the Canadian Armed Forces with the tools they need to be highly successful on operations. This is especially true for the members of our Special Operations Forces who are often placed in more complex and challenging environments".
The Canadian government will be buying a total of 62 of the specialized vehicles. They will continue to arrive through to April this year at an approximate cost of $23 million. This includes technical support services, and integrated logistics support for two years, along with publications and manuals, spare parts and driver training.
Some performance specs, such as top speed, are not divulged, but the truck with payload of almost 1,500kg is said to be capable of moving "quite quickly" over ground with its turbo diesel engine.