Norilsk says blood-red river spill caused by heavy rain, weather report tells another story
"Abnormally heavy rains became the reason for Daldykan River Case," reads the headline in a press-release sent out by Norilsk-Nickel on Monday, nearly a week after the first social media photos of the blood-red river started to appear.
That could have been a plausible explanation if it weren't for Russia's weather forecast service's diary, telling that there was no rain in Norilsk on the day when the leak happened, neither the day before. In fact, no precipitation was recorded at all that week, GisMeto's overview reads.
The red-polluted river on the Siberian tundra outside Norilsk has made world-wide headlines.
In its press release, Norilsk-Nickel says the "short-term river color staining with iron salts presents no hazards for people and river fauna." The company, however, assures it will "do everything in its power to avoid such incidents in future."
Based on an investigation into the leak, Norilsk-Nickel explains how the pollution came to the river from a tailings dam at its Nadezhda Metallurgical Plant.
"On Sept. 5, after abnormal heavy rain, an overflow of one of the dikes occurred, and water entered Daldykan river," says the press release.
The company says the area received approximately 50 percent of monthly average precipitation in rainfall in the course of 24 hours.
GisMeto's diary says there was no rain, it was partly cloudy all day long on Sept 5, just as it was the day before.
The conflicting information is not the first in this case from Norilsk-Nickel.
First, the company denied any claims about pollution. A press-note posted on September 8th at the company's portal reads: "The waters show the natural tone; the river and its mainstream are in regular condition, which goes against the information about any colour changes due to an alleged case of large-scale river pollution."
The text is accompanied with photos of the river, though at a totally different location, showing no red colour in the water.
Norilsk is by far the most polluted place in the Circumpolar Arctic. Heavy air-pollution has damaged the environment in huge areas on the Taimyr Peninsula. Norilsk-Nickel's subsidiary Kola GMK has for decades been branded as the largest cross-border air-polluter in the borderlands between Russia, Finland and Norway.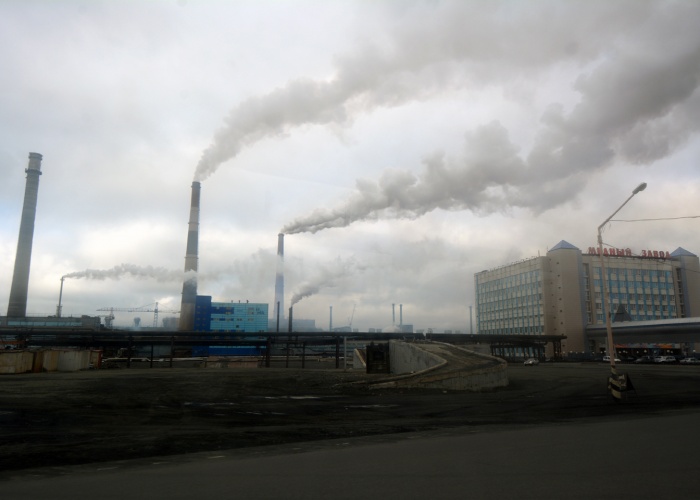 Related stories from around the North:
Canada:  Arsenic contamination persists in Yellowknife lake a decade after gold mine shut: study, Radio Canada International
Finland:  Finnish air pollution shortens life, Yle News
Greenland: Study finds increase in litter on Arctic seafloor, Blog by Mia Bennett
Russia:  Norilsk Nickel bribed eco watchdog, say prosecutors in Arctic Russia, The Independent Barents Observer
Sweden: Stockholm cleans up and passes air quality test, Radio Sweden
United States:  Mining corporation a no-show in court as environmental criminal case moves forward, Alaska Dispatch News