Eklutna Glacier, source of Anchorage's water, is dripping away — but oh so slowly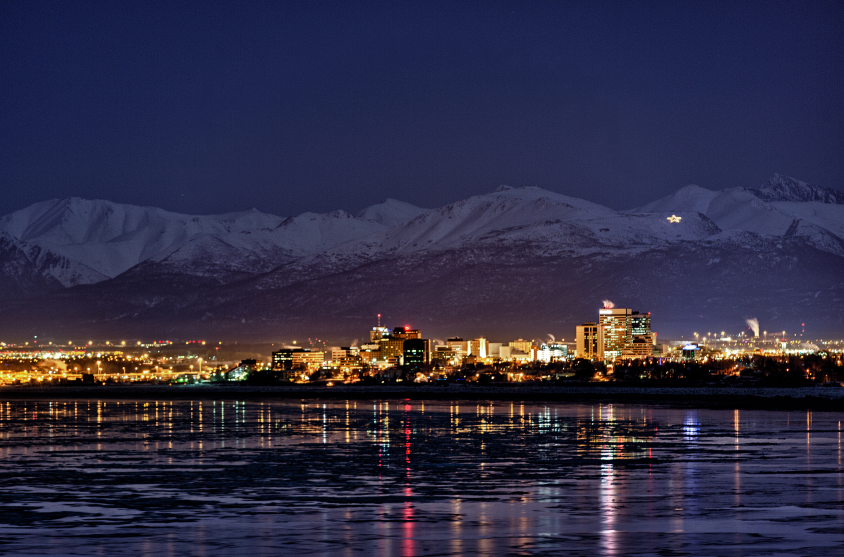 The days are numbered for the glacier that provides most of the drinking water for Alaska's largest city. Fortunately for Anchorage's current generations, that number of days is high.
A new study quantifies the rate at which Eklutna Glacier is losing its icy mass. Between 1957 and 2010, the "deglaciation discharge dividend" — the degree to which water running off the glacier is the product of the loss of glacier mass —  averaged 5 percent a year, the study found. Between 2010 and 2015, that rate bumped up to 7 percent, according to the study. And in certain hot years, like 2013 and 2015, the rate was 13 percent, the study found.
The study, published in the International Glaciology Society's Journal of Glaciology, is led by the U.S. Geological Survey. The study relies in large part on work conducted by Alaska Pacific University scientists who have trekked annually to the glacier's highest elevations to take mass measurements.
In the long term, Eklutna Glacier — more than 6 miles long and about 11 1/2 square miles in area — will melt away, except for a remnant and small high-elevation cirque glaciers, said Louis Sass, a USGS scientist and former APU instructor who is the study's lead author.
"Eklutna looks like it's going to more or less disappear," he said.
How long that takes depends on climate, Sass said.
Lower water supplies
If the climate remains the same as that from 2008 to 2015, the glacier's near-complete disappearance will likely happen in about 100 years, he said. If the climate warms even more, however, the timeline will be much shorter, perhaps in half as much time, he said.
The newly published study does not give any expected endpoint for the glacier's life, but warns that the "deglaciation dividend" will eventually disappear, resulting in lower water supplies.
Sass is a former APU graduate student who worked with Mike Loso, a glacier expert formerly at APU and now with the National Park Service. Even though Loso no longer takes APU students up the glacier to make measurements, he, Sass and their colleagues have made their own repeat trips there to measure mass.
In 2016, Eklutna water made up 86 percent of the nearly 8.3 trillion gallons of water produced for Anchorage Water and Wastewater Utility. Far more of Eklunta's water — about 10 times as much or 250 million gallons per day — went in 2016 to Eklutna hydroelectric plant operated by local power utilities, according to AWWU.
No serious threat… for now
In some parts of the world, like the Andes and the Himalayas, reduction in glaciers is posing serious and nearly imminent threats to drinking-water supplies and hydroelectric power.
Anchorage is not yet in that position, Sass said. It has a relatively cool and moist climate, and the population is not as large and resource-draining as that of other cities, he said.
For the near and medium term, the glacier will be present and providing sufficient water, with shrinking mass swelling the supply.
"I'm not pounding down the mayor's door saying we need to change our ways drastically," he said.
What is noticeable now, Sass said, is the rapid change at the narrow terminus that spills out to the end of the Eklutna Lake trail in Anchorage's Chugach State Park. That is retreating, with changes that are obvious to frequent recreational users who hike to the ice or climb on it, he said.
"It'll look almost like a totally different place year to year," he said. The aesthetic changes are minor; the big changes are far higher in elevation and further into the future, he said.
"In terms of the actual water quality and supply, that's going to take a longer amount of time," he said.
Related stories from around the North:
Canada: Climate change does 'weird things' to Canada's Arctic glaciers: expert, Alaska Dispatch News
Finland: Winds challenging Finland's icebreakers despite record low Baltic ice, Yle News
Greenland: Can we still avert irreversible ice sheet melt?, Deutsche Welle's Ice-Blog
Norway:  January sea ice extent at record low in Barents and Kara seas, The Independent Barents Observer
Russia: 2016, warmest year on record in Russian Arctic, The Independent Barents Observer
Sweden:  How will global warming affect the average Swede?, Radio Sweden
United States: Ice extent still well below normal in Arctic, Alaska Dispatch News