Trump repeal of climate rule won't immediately affect Alaska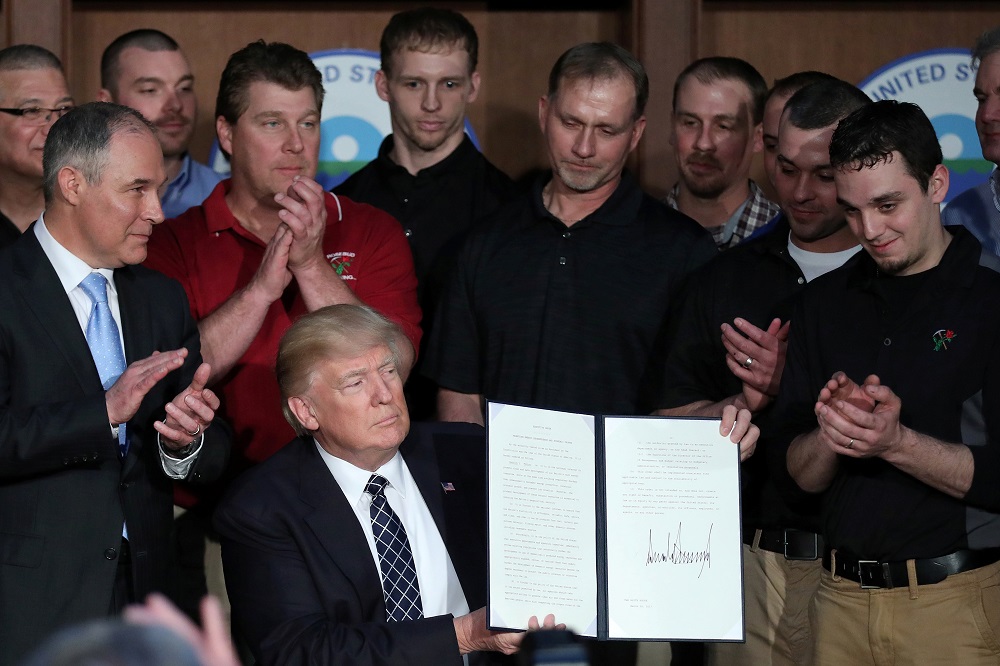 WASHINGTON — The Trump administration's efforts to repeal the Environmental Protection Agency's regulation limiting carbon dioxide emissions from power plants won't mean much, on the ground, for Alaska.
The state was already exempt from the rule, which the EPA issued in 2015, after ongoing efforts by Republican Alaska Sen. Lisa Murkowski, who chairs both the Energy and Natural Resources Committee and the Appropriations subcommittee that oversees the EPA's budget.
Over time, other parts of Trump's executive order could impact the business of Alaska, but it will depend on how disputes over the regulations shake out in the agencies and in court. The executive order requires that the Department of the Interior take another look at several Obama administration regulations related to oil and gas activities on federal land. The executive order immediately overturns a requirement that agencies consider climate change when reviewing federally-permitted infrastructure projects under the National Environmental Policy Act.
But the central portion of Tuesday's executive actions — launching efforts to undo the Clean Power Plan — won't change much for some states and territories. Alaska, Hawaii, Guam and Puerto Rico were not required under the 2015 rule to come up with plans to reduce carbon dioxide emissions from coal-fired power plants.
Insufficient information
An earlier draft version of the rule would have required Alaska to cut CO2 emissions 26 percent from 2012 levels by 2030 at five power plants in the Anchorage area and the Railbelt.
But after prodding by Murkowski, the EPA decided to leave Alaska out of it.
Legally, the state wasn't "exempted," but its action was deferred. The agency said it didn't have enough information to set limits for the states. That also meant, however, that it would be much more difficult for green groups unhappy with the decision to sue.
The head of the EPA's air division at the time, Janet McCabe, noted then that requirements for the Lower 48 were heavily "dependent upon the interconnectedness of the grid," which is not something that's available to help Alaska lower its CO2 pollution.
Positive reactions
Murkowski had no statement to offer Tuesday on Trump's action, according to her energy committee spokeswoman, Nicole Daigle.
But both Sen. Dan Sullivan and Rep. Don Young were pleased with the moves and said they expected positive changes for the energy industry.
"I applaud President Trump for kicking off the process of undoing some of the most sweeping rules promulgated under the Obama administration," Sullivan said. He said he hoped that new EPA policies will "help grow our economy by putting Americans back to work," and questioned the environmental value and legal standing of the Obama-era regulations.
"For eight straight years, the Obama administration engaged in a full-on assault against our nation's energy sector — creating hurdles and obstacles at every turn," Young said. "Today's action by the president represents a major step in the right direction for streamlining the development and production of our nation's abundant and reliable resources … I look forward to working with this administration to ensure Alaska is an active partner in this endeavor."
Related stories from around the North:
Canada: Climate-driven Arctic permafrost thaw will dramatically alter northern landscapes: study, Radio Canada International
Finland: Winds challenging Finland's icebreakers despite record low Baltic ice, Yle News
Greenland: Arctic sea ice – Is the minimum maximum the new normal?, blog by Irene Quaile, Deutsche Welle
Norway:  January sea ice extent at record low in Barents and Kara seas, The Independent Barents Observer
Russia:  Foreign cruise vessels line up for voyages to Franz Josef Land, Radio Canada International
Sweden:  How will global warming affect the average Swede?, Radio Sweden
United States:  Warming ocean waters off Alaska bring widespread ecological changes, with more expected in the future, Alaska Dispatch News