President Sauli Niinistö on 2nd term: "No need for major changes" in Finland politics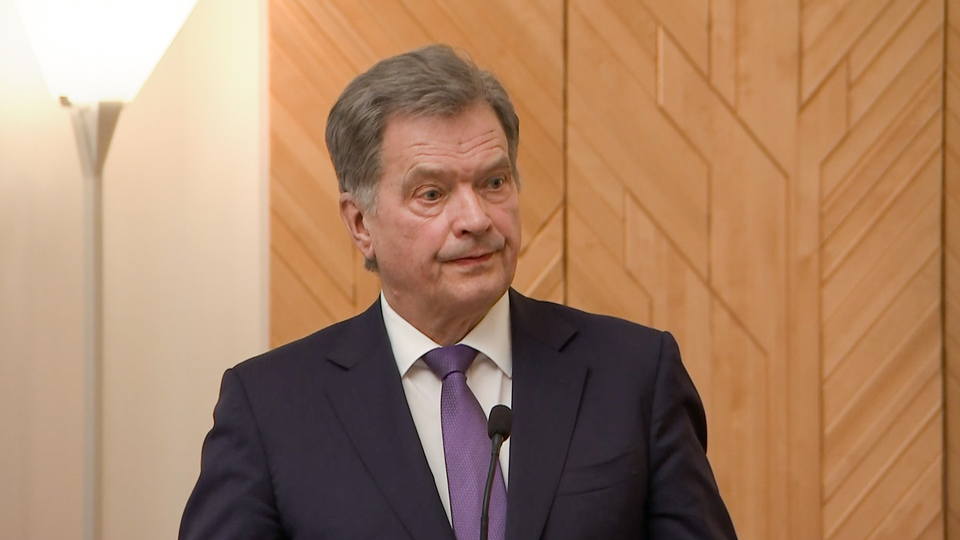 Speaking after a historic re-election win, the Finnish president said that Finland's security environment is calmer now than a few years ago.
President Sauli Niinistö will be sworn in for another six-year term at noon on Thursday, February 1st. On Sunday he became the first Finnish president to be elected in the first round since the current direct electoral system was adopted 30 years ago. Usually the inauguration is on March 1, but was moved up due to the lack of a second round.
On Monday, Niinistö laid out plans for his second term at a press conference at his official residence, Mäntyniemi, in Helsinki's Meilahti neighbourhood.
The president dismissed suggestions that his resounding victory in Sunday's vote gave him a mandate to do more than he has in his first term. He said the win gives him a mandate to continue as he has so far, and that he sees no need for major changes.
Close relations with the cabinet
Niinistö says he aims to maintain close relations with the cabinet and perhaps strengthen ties with the parties in Parliament.
The president says that in his view, Finland's security environment is not as restless as it was when the Ukraine crisis erupted in 2014. He expressed the hope that the Russian presidential elections in March will bring positive developments for relations between Russia and the EU. Niinistö added that he does not see any particular problems in relations between Finland and Russia.
PM to seek re-election, too
Final election results show that Niinistö scored 62.7 percent of the vote, while his closest rival, the Greens' Pekka Haavisto, picking up just 12.4 percent. The two faced off in the second round of the last election in 2012. This time voter turnout was slightly lower than six years ago, falling just under 70 percent. At that point Niinistö ran on the conservative National Coalition Party ticket; whereas this time he ran as an independent but with the support of his former party.
Meanwhile Prime Minister Juha Sipilä said on Monday he will run for re-election as leader of the Centre Party next summer – despite the poor showing of the party's presidential candidate, Matti Vanhanen, compared to that of Paavo Väyrynen, another Centre politician who staged an independent campaign.
Related stories from around the North:
Canada: New Supreme Court justice brings deep experience of Arctic, Indigenous issues to Canada's highest court, Radio Canada International
Denmark: Denmark's new defence agreement renews focus on protecting the Baltic, Radio Canada International
Finland:  Historic first round victory for incumbent Sauli Niinistö in Finland presidential election, Yle News
Iceland: Norwegians and Icelanders let Alaskans in on the secrets to economic prosperity, Alaska Dispatch News
Norway:  Barents bishops ask Arctic Council to promote fossil-free future, The Independent Barents Observer
Russia: Arctic Council ministerial – View from Russia, Eye on the Arctic
Sweden: Sweden's Prime Minister reaffirms commitment to country's defense, Radio Sweden
United States: Arctic Council presents united front as Finland takes over from U.S., Eye on the Arctic