Blog – Smelters, huskies, and fish pies: the Arctic road from Norway to Russia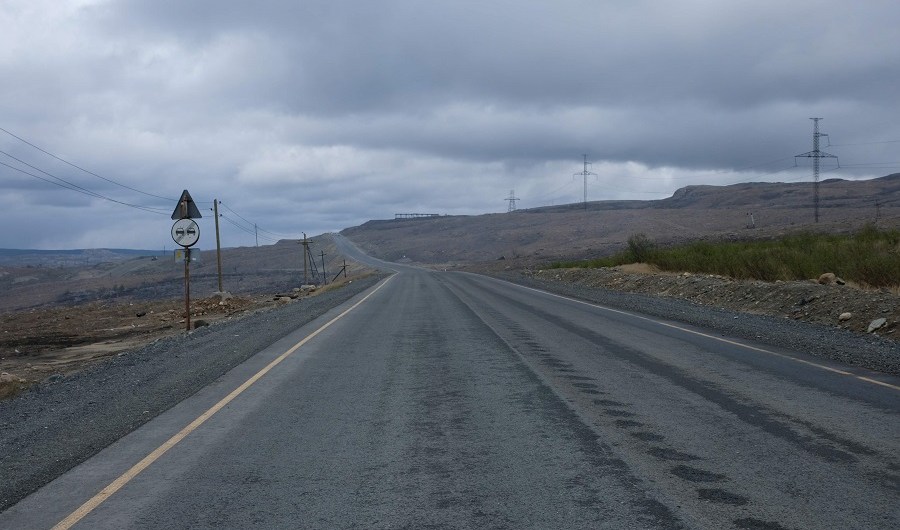 On a gray June day, a group of thirty-odd Arctic scholars and artists participating in a traveling symposium called the Calotte Academy piled into a bus in front of the Skansen Hotel in Kirkenes, Norway.
We had stuffed ourselves at the smörgåsbord breakfast (advertised as the "city's best" with copious amounts of smoked salmon, eggs, waffles and cheese, cakes, and even caviar), knowing it was probably going to be our last good meal for some time. Our bus was headed across the border to Russia – a country journalist Matt Taibbi famously described as "eleven time zones of bad food."
Already while walking the streets of Kirkenes, we could sense Russia's proximity. The town's street signs are in Norwegian and Russian, and two rusting Russian fishing trawlers sat docked in the harbor, their names painted in Cyrillic. On a small hill just outside the center of town, a Soviet Liberation Memorial honors the forces who liberated the city from Nazi control in 1944.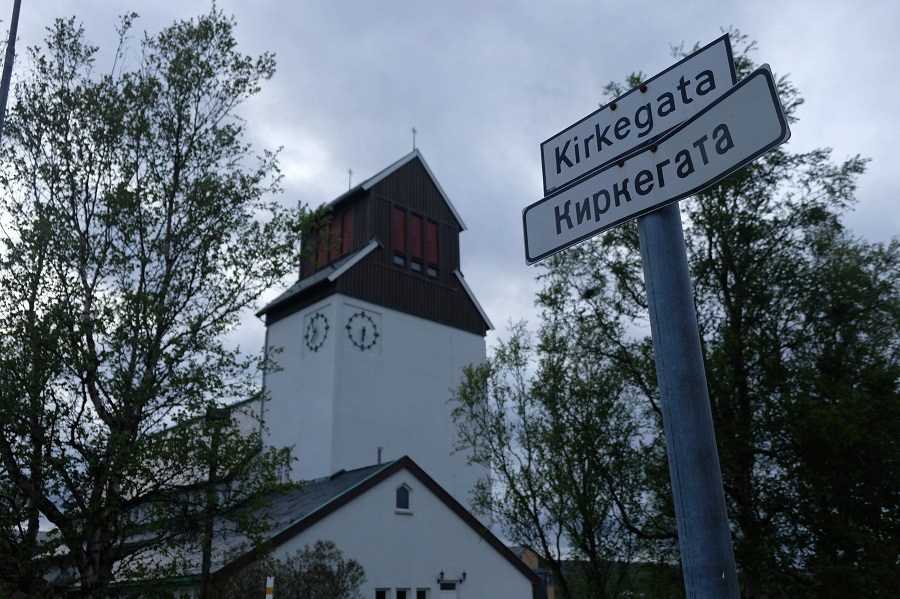 Our hotel had a tank housing two red, spindly Kamchatka crabs staring vacantly into the hotel lobby. This alien species, native to the Bering Sea on the completely opposite end of Russia, was introduced by the Soviets to the waters off the Kola Peninsula in the 1960s to provide a new species to fish. Back in 2004, National Geographic took to declaring a "giant crab 'Red Army' invasion," though some Norwegian fishermen are happy to be able to catch and sell a delicacy that commands high prices.
Crustacean occupation aside, relations between Norway and Russia are generally good. As Norwegian Minister of Foreign Affairs Ine Eriksen Søreide described last December in a speech in London, the two countries cooperate on issues like search and rescue, fisheries management, and nuclear safety. The Norwegian government places high prominence on maintaining these ties as part of its High North strategy, which guides its foreign policy in the Arctic.
The border, however, still feels tense. The checkpoint lies just 16 kilometers away from Kirkenes in a Norwegian town called Storskog (literally "big forest"). There, aside from the goofy beagles that were ostensibly Russian drug-sniffing dogs, the barbed wire, security cameras, and signs prohibiting crossing on foot (the reason why migrants from Syria and elsewhere in the Middle East seeking asylum in Europe via the Arctic route attempted to cross by bicycle two years ago) are a stark reminder of the way in which Russia and the West literally remain cordoned off from each other.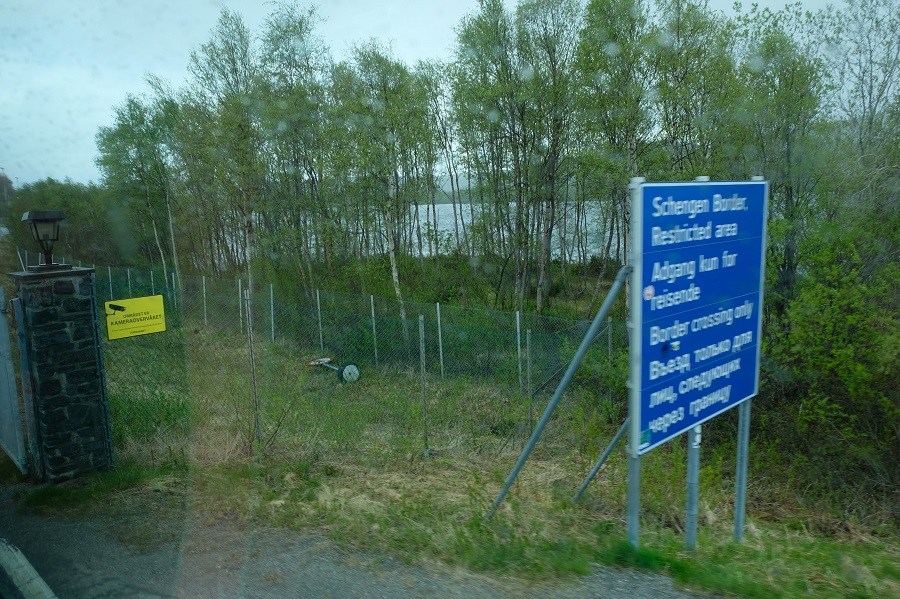 In contrast, a few days prior when we crossed the border between Finland and Norway, the change in country was barely noticeable. There was just a small roadside sign and no checks or patrols. The only real indications that we were leaving Finland were two last-chance grocery stores where drivers can stock up on salted licorice, reindeer salami, and hunting gear while paying reasonable amounts in euros rather than emptying out their wallets in oil-rich Norway.
Crossing the Norwegian-Russian border
Crossing the border between Norway and Russia was a much more involved two-step process that lasted an hour in total. Handing over our passports to the Norwegian border officials for exit stamping was relatively painless. Entering Russia naturally took a little bit more time. Heart pounding, I stood in front of a stone-faced woman, her hair dyed black and eye make-up unchanged since approximately 1993, as she dispassionately sized me up. With no warning, she abruptly sighed and stomped away in heels from her Plexiglass-shielded booth only to return 10 minutes later with no explanation. In any case, shortly thereafter, I was through. Once the Russian officials had let all of us into the world's largest country, we threw our suitcases into the undercarriage of the bus and hopped back into our seats. The Finnish bus driver turned on the engine and we were off.
As we rolled along the Russian highway, the landscape – still tundra and trees – grew increasingly denuded. Tall, thin smokestacks rose in the distance, sending billowing plumes of particulates, steam, and other toxins into the sky. Northern Finland might have the world's cleanest air, but northwest Russia certainly does not.

After about 20 minutes of driving in Russia, we stopped by the side of the road to take in the view of the infamous nickel smelter that has caused an untold number of health and environmental problems. Norilsk Nickel owns the plant, called Kola MMC. Nickel was discovered on these lands in 1935 when they were part of Finland. The Nazis occupied the area from 1941-1944, and 75% of the nickel used to build their tanks originated here.
After World War II, Finland ceded these lands, called the Petsamo region, to the Soviet Union. Nearly everyone living in Petsamo, including many Russian-speaking Skolt Sámi, as I wrote in my previous post, were consequently resettled in Finland.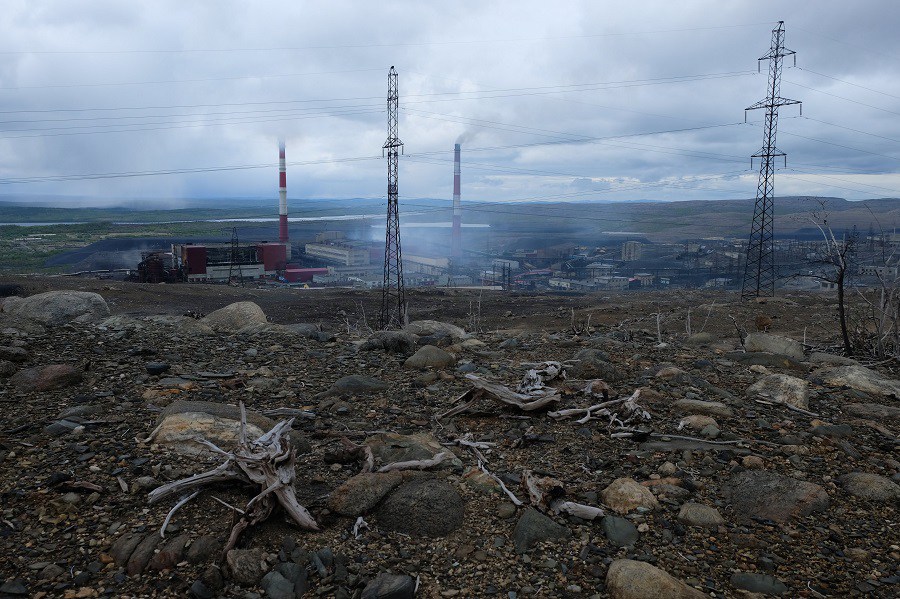 Stepping – or rather sprinting out of the bus, being a group of people completely fascinated by Arctic development – the toxic fumes hit us like a wall. I've seen lots of mining activity before, from the enormous oil sands of Alberta (Canada) to an almost picturesque iron ore mine in Kirkenes and a cavernous open-pit diamond mind in Siberia, but none had ever smelled like this. An acrid, sharp tang of burnt metal hung in the air. The landscape looked like someone had set the moon on fire. It was hard to believe we were so close to Norway, where people can hunt and fish not far from mining facilities thanks to stringent environmental regulations. Here in Nikel, I barely even wanted to breathe.
Pit stop in the Russian Arctic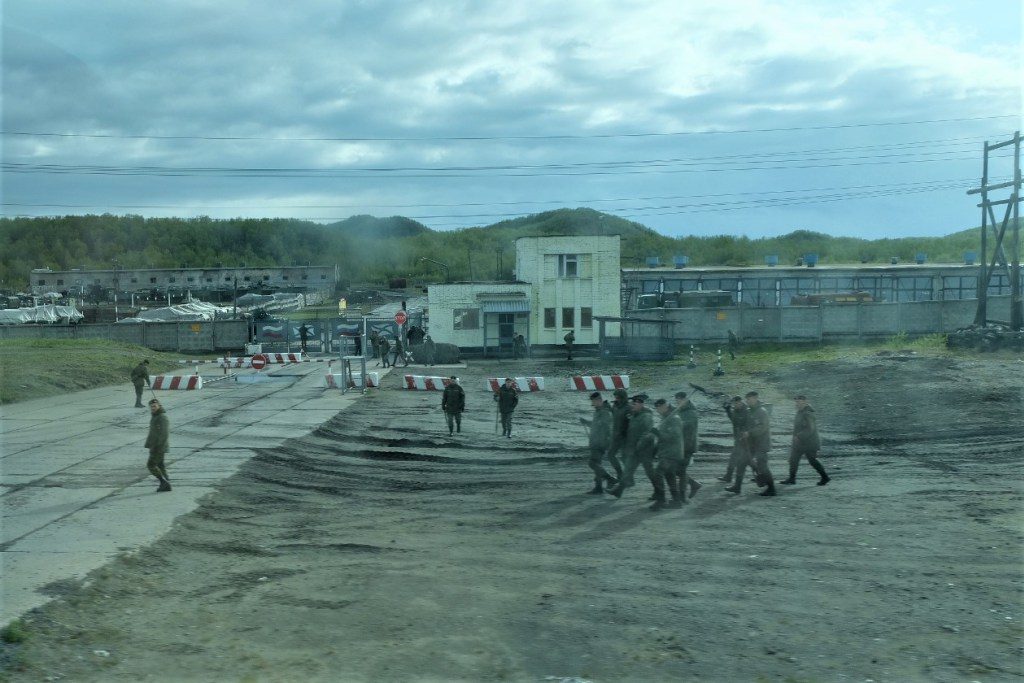 Driving further along the E105 highway, we passed all sorts of surreal scenes that wouldn't have made sense anywhere but in Russia. There were a handful of military towns with names like "Sputnik," where strapping young men in camouflage strode along the side of the road. A few kilometers ahead, the rusted macabre skeleton of a totaled vehicle sat on top of a pole with a hand-painted multilingual sign warning to drivers not to speed. On top of a ridge in the tundra, a white, dome-shaped building, possibly a weather station, sat nestled between the shrubs and clouds.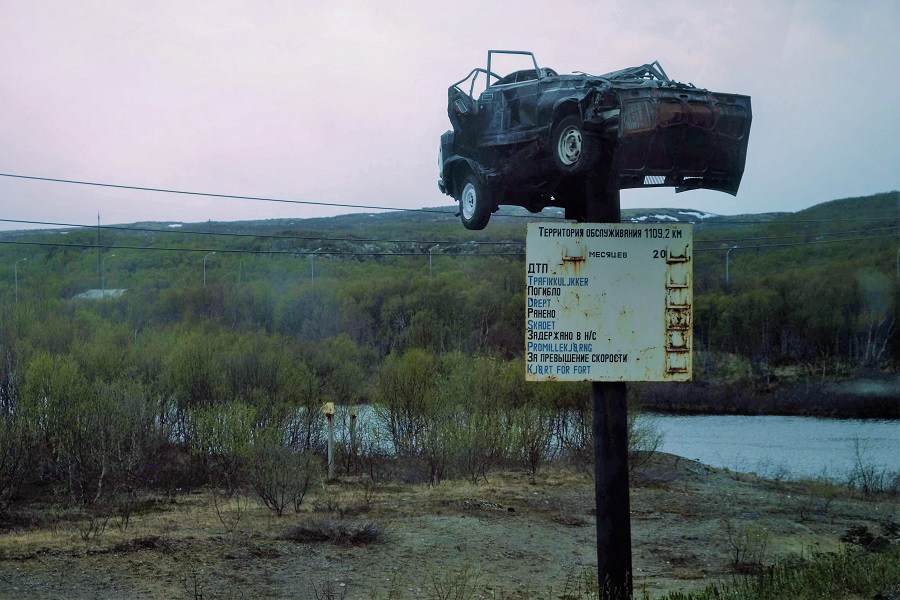 After we put a bit more kilometers of asphalt behind us, we made a stop at Titovka, which is basically just a small rest stop. Wikipedia claims the settlement has a population of 1, though that day, there were at least four locals: a restroom attendant, shop cashier, and two women dressed in parkas who looked like they had ancestry from eastern Russia or Central Asia. As we got off the bus, two docile, blue-eyed husky dogs approached us looking for food and affection.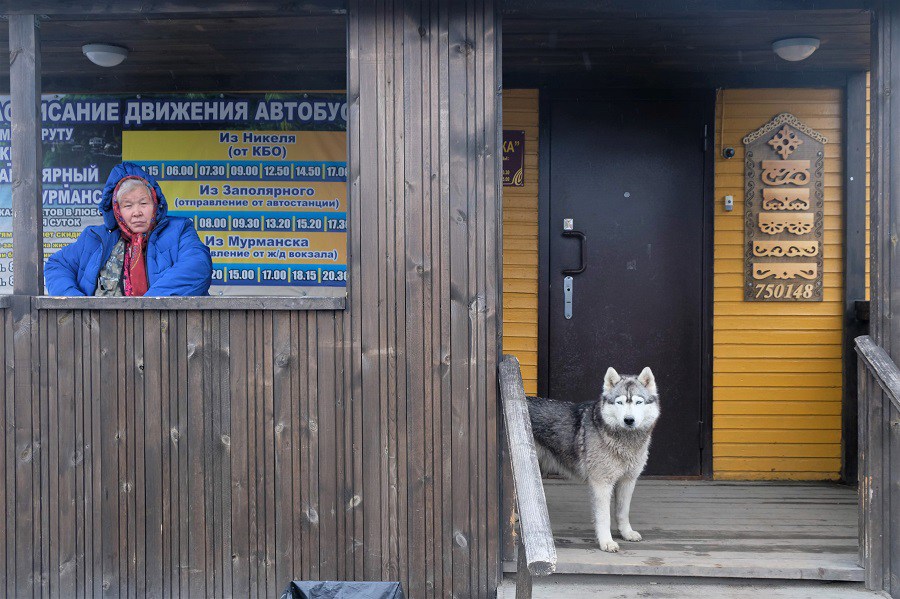 On the right side of the parking lot was a very Russian set of public toilets. For the price of 20 rubles (32 cents), a humorless attendant let you into the well-heated, pink-walled bathroom, which has three clean stalls well-stocked with toilet paper.
On the left side lay a small wooden building. Inside was a young red-haired woman selling all sorts of pierogi: pies with fish, pies with cabbage, and pies with apples, for starters. There were some inferior versions of Georgian cheese bread, khachapuri, and various sorts of "pizza" that would make an Italian have a meltdown. The fridge case was well-stocked with beer, and a coffee machine churned out instant mochas and cappuccinos, representing a welcome upgrade from the Nescafe typical across Russia.
Our group spent nearly 45 minutes stocking up on snacks and beverages, with only one small hiccup occurring. The cashier, who was understandably a bit frazzled since it's probably not all that often that a busload of 30-odd travelers from countries as widespread as Cameroon and Canada rolls up to Titovka – momentarily made the accusation that a pie had been stolen. In fact, there was just confusion over who was paying for the 60 ruble ($1) baked good.
With our uppers and downers, we re-boarded the bus for the short ride to an enormous Soviet war monument to the soldiers who fought in the Petsamo-Kirkenes Offensive in 1944 against the Nazis. As this was the last offensive ever fought in the Arctic, it served as an important model for Soviet military experts strategizing for potential northern battles. Russia must have more World War II monuments than any other country, so it wasn't surprising in the least to see such an enormous and well-maintained structure where people still come to lay fresh flowers in the middle of the tundra.
After another hour or so of weaving through mosslands and flat-topped, snow-covered mountains, row after row of nine-story Soviet apartment buildings, nicknamed khrushchevki after the Soviet Secretary General who popularized them, swung into view. This ubiquitous architectural form stretches all the way from here to Petropavlovsk-Kamchatsky on the shores of Pacific Ocean. An enormous statue of a soldier, the second tallest monument in Russia, beckoned across the fjord. We had arrived in Murmansk, the world's largest city north of the Arctic Circle and gateway to the Northern Sea Route.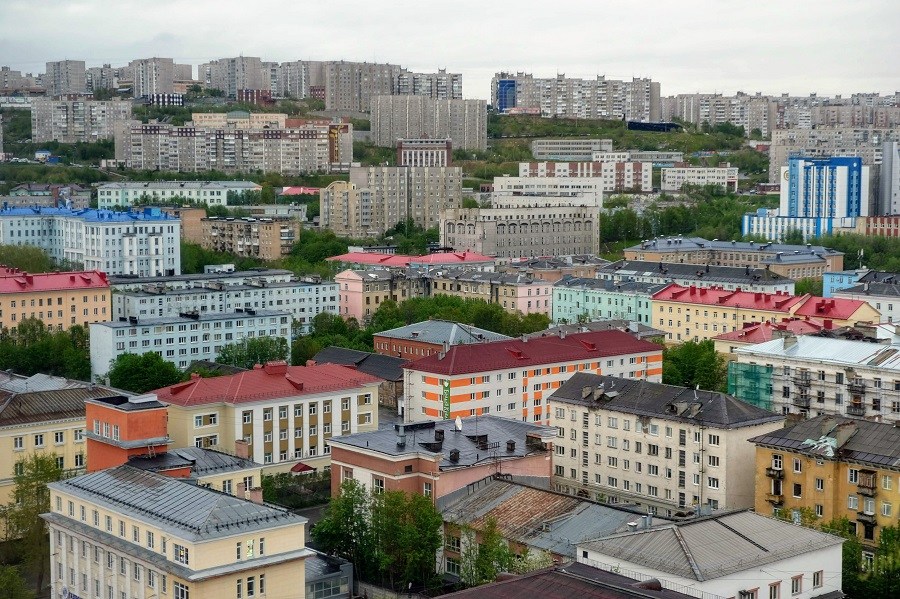 During the five-hour, 223-kilometer journey from Kirkenes, we'd breathed in more particulate matter than I care to know, reduced the price of beer to a tenth of its cost in Norway, exchanged Kvikklunsj candy bars for colorful, individually foil-wrapped candies unchanged in their packaging since Soviet times, and learned that borders still matter for development.
This post first appeared on Cryopolitics, an Arctic News and Analysis blog.

Related stories from around the North:
Canada: How Northwestern Inuit led construction of Canada's highway to Arctic Ocean, Cryopolitics Blog
Finland: Finland has world's cleanest air, WHO says, Yle News
Norway: Fewer Russians doing cross-border shopping in Northern Norway, The Independent Barents Observer
Russia: Arctic electric rally hits the road towards Northwestern Russia, The Independent Barents Observer
Sweden: Sweden breaks ground on test plant for fossil-free steel production, The Independent Barents Observer
United-States: America's most toxic site is in the Alaskan Arctic, Cryopolitics Blog