Sweden seen as major source of COVID-19 in Western Finland region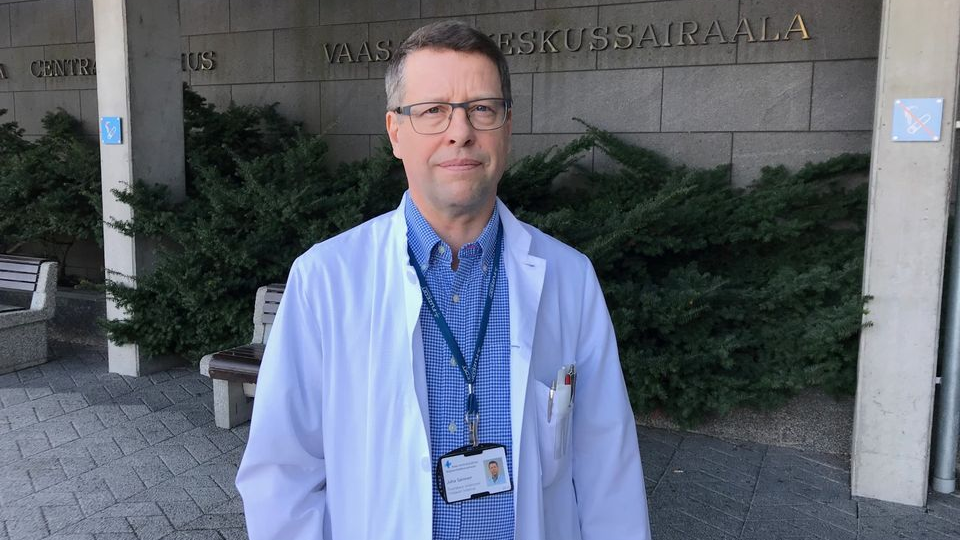 Vaasa Central Hospital's infectious diseases chief physician
 

Juha Salonen

 

told Svenska Yle that people

 

who tested positive for Covid-19 in Finland's western region of Ostrobothnia over the past month had been infected in Sweden. But the hospital district's medical director,

 

Peter Nieminen, said it isn't that simple.

Niemen said that he hasn't had the chance to discuss the Yle Svenska article in question with Salonen, but mitigated his comments.

"I would like to emphasise that infections come from Finland and Sweden. I reckon there has been some misunderstanding here," Nieminen told Finnish-language Yle, but did not specify what the misunderstanding was.

"The assumption is that Sweden has a higher risk of infection. There have been cases that came from there too, but I cannot say how many," Nieminen said.
Few cases drop further
As of the beginning of the week, the region recorded a total of 61 Covid-19 cases, with 59 individuals recovering from the disease.
While the exact number was unclear, Svenska Yle reported earlier this week that one-sixth of the region's total Covid cases were linked to Sweden. A total of two people in the region have died from coronavirus complications.
In the interview, Salonen said it could be that Ostrobothnia is now seeing the end of the first wave of the epidemic, noting that the highest number of cases were diagnosed in March.
"For three weeks in March we had more than 30 confirmed cases, and since the beginning of April we've seen the same number over the course of seven or eight weeks," Salonen said.
He said that at the beginning of the epidemic, some patients were receiving hospital treatment sometimes in intensive care.
"But now we have [no patients in the hospital]. The last two weeks have been pretty quiet," he said.
Salonen also noted that the epidemic is much more widespread in Sweden than in Finland, saying that people who head there should know there's an increased risk of being infected.
Test and quarantine
"If you've been abroad you should quarantine, even if you have no symptoms and if you do have symptoms, you should get tested. Sweden is starting to be one of the hardest-hit countries in Europe right now," Salonen said.
"The situation is calm right now. It's good, but we need to prepare ourselves for the possibility of new cases, now that travel restrictions are not as strict as they were," Salonen told Svenska Yle.
As summer begins, Salonen said he believes that the Vaasa hospital district should use the government's so-called hybrid strategy, which involves testing people with suspected infections, and isolating others who may have been exposed to the virus.
"Then you can avoid spreading the epidemic. It's still possible it will come back, sooner or later," Salonen warned, who noted he thinks that gaining access to a novel coronavirus vaccine is still a year away.
"Then the question is how effective the vaccine is, but a vaccine would be a good way to fight the virus," Salonen said.
Related stories around the North:
Arctic: Roundup of COVID-19 responses around the Arctic, Eye on the Arctic
Canada: More than 100 people refused entry to Canada's North under COVID-19 travel bans, CBC News
Greenland/Denmark: COVID-19 could delay Kingdom of Denmark's Arctic strategy, Eye on the Arctic
Finland: Why residents of northern Finland pushed back against border closure with Sweden, Yle News
Greenland: COVID-19: Arctic science expedition postpones flight campaign after trainee tests positive for virus, Eye on the Arctic
Iceland: Iceland talks COVID-19 with Canada, Greenland foreign ministers, Eye on the Arctic
Norway: Growing concern among Nordic officials over increased Arctic border traffic, The Independent Barents Observer
Russia: Closed military naval town in Russian Arctic sees major increase in COVID-19 cases, The Independent Barents Observer
Sweden: Nordics concerned over COVID-19 spread in Sweden, Radio Sweden
United States: COVID-19 pandemic raises hard questions about health disparities, says Int'l Inuit org, Eye on the Arctic