Listen
An "epidemic" of Canadian young people using hookahs or waterpipes are exposing themselves to dangerous toxins and infections, says Roberta Ferrence, senior scientific advisor to the Ontario Tobacco Research Unit and professor at the University of Toronto.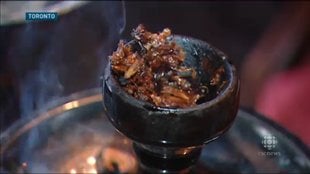 Hookah originated in the Middle East and India five centuries ago. Waterpipes burn charcoal to heat tobacco or herbs, producing smoke. The smoke bubbles through water to cool it before inhalation. Nowadays several countries have banned their use indoors.
Hookah increasingly popular
Hookah or shisha parlours have opened across Canada and more and more young people are using them. A study from the University of Waterloo found the number of grade nine to 12 students (around age 15 to 18) reporting ever using a hookah increased from 9.5 per cent in 2006 to 10.1 per cent in 2010.
Traditionally hookah smokers burn a harsh flavourless tobacco. But since smoking indoors is banned in most parts of Canada, hookah parlours offer "herbal" tobacco-free products. However, Ferrence's sampling of the air in parlours suggests several are indeed burning tobacco. She also found the air often full of extremely high levels of toxins from the burning of charcoal.
Hookahs create a "very toxic environment"
"Everybody knows you don't barbecue indoors but somehow this doesn't get transferred over," says Ferrence. "Many venues might have ten, twenty, up to thirty charcoals going at the same time for several hours, so it's a very toxic environment."
Ferrence consistently measured particulate matter at levels of 1,500 micrograms per cubic meter in hookah parlours. One shisha bar had 17,000 mgs. The World Health Organization says under 25 are safe. One shisha bar had 17,000 mgs. And on a bad day in Beijing, when levels exceed 500 mgs people are told to stay home.
Carbon monoxide too
"In addition to the particulates which certainly cause heart problems and lung problems, we have very high levels of carbon monoxide which is very dangerous," says Ferrence. "People end up in hospital sometimes." She notes the levels in some bars were above the 24 hour exposure limit for industry.
Herbal preparations, she says, are no better than tobacco and have the same level of carcinogens.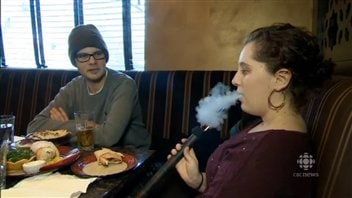 Risk of infection
Beyond that, Ferrence notes that viruses and bacteria can be transmitted through the mouthpieces, and even when disposable mouthpieces are used, infectious agents can stay in the hoses.
The western province of Alberta passed a law in November banning hookah smoking in public places altogether. Many towns in the province of Ontario are considering a ban. Vancouver is awaiting the result of a court challenge of its ban.
Ferrence says it is important to raise the alarm about hookah use and let young people know "this is a very risky kind of behaviour."