Listen
It's kown as a 'pop-can solar furnace' and you can find the plans on You tube. But Randy Buchanan tweaked and tinkered and made significant improvements by enclosing it in a box, and using aluminum downspouts for the pop-cans.
With easy to obtain pieces and recycled elements like cast-off window panes Randy Buchanan built a system that even on a cloudy day, is heating his building by as much as 10 degrees celsius.  On a sunny day it will quickly rise by 40 degrees C.
 I'm just amazed how well it works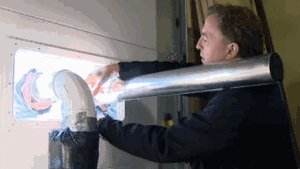 An 'environmental consultant' Buchanan needs the heat and clean air for the rainbow trout he raises for his aquatic toxicology studies.  He started exploring alternatives when December's record low temperatures sent his heating bill soaring.
Randy Buchanan combined pop cans with aluminum down spouts, and an old thermo pane window to assemble this solar furnace, and he is amazed at the results.  Add in the fan and the investment came to about $300 C.
It's working so well, he'll soon be taking down the solar photo-votaic panels off his roof.  He says the province of New Brunswick's solar power plan is a deterrent, it's costly and complicated.