In a press release this week, Canada's largest private sector union says the Northern Gateway pipeline will bring more harm than good to the Canadian economy
The proposed pipeline would run from a town called Bruderheim in Alberta, 50 kilometers northeast from the provincial capital, Edmonton, to a deep water coastal terminal and tank farm to be built in Kitimat in British Columbia. From there the heavy bitumen would be shipped by tanker to foreign destinations, such as the Asian market.
"Risks for Canadians, benefits for foreign oil companies" Dias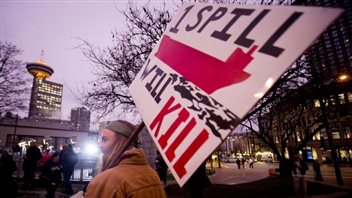 The project actually includes two adjacent 1,177 km pipelines that will carry heavy oil (bitumen) from Bruderheim to Kitimat and the second pipeline will carry condensate (used to thin the bitumen for easier transport)  from Kitimat to Bruderheim.
It's expected cost is $6.5 billion.
Unifor is Canada's largest private sector labour union with some 305,000 members. It was created in 2013 with the merger of the Canadian Auto Workers union and the Communications, Energy, and Paperworkers union.
In announcing the union's opposition to the pipeline, Unifor's national president Jerry Dias said, ""The Northern Gateway pipeline brings sky-high risks to Canadians but only foreign oil companies will benefit,"
While up to 3,000 people will be needed to build the pipeling, the Alberta labour Federation has said only 228 permanent jobs will be created by sending the unrefined bitumen to foreign refiners and markets.
"Canadian natural resources should create long-term Canadian jobs and meet Canadians' energy needs," said Dias. "Unifor stands united with the groups demanding that the federal government stop reckless pipeline projects and invest in greener jobs that can support families."
Over 100 aboriginal groups, many communities, and a large segment of the British Columbia population is opposed to the pipeline, and to oil tankers in the tricky waters leading to and from Kitimat at the head of a long narrow fjord.
Some numbers related to the project

91cm (3 ft) – the diameter of the pipeline that would carry oil from Alberta to the Pacific Coast.
10% – the share of the project ownership offered to First Nations and Métis.
50cm (20 in) – the diameter of the pipeline that would carry condensate back to Northern Alberta.
220 tankers – the number of cargo ships that would be loaded with crude oil each year in Kitimat.
560  jobs – the number of long-term jobs the pipeline would provide. *(Alberta Labour Federation says 228)
3,000 – the number of workers needed to build the pipeline.
520,000 barrels – the amount of oil the pipeline would carry each day from Alberta to BC. while the return line would carry 193,000 barrels of condensate back
$1.2 billion – the amount of tax revenue promised to B.C. over the next 30 years.
$2.4 billion – the lower estimate of the economic cost of a major tanker spill on the West Coast
$9.5 billion – the highest estimate of the economic cost of a major tanker spill on the West Coast.

(Sources: Enbridge Northern Gateway Project, UBC Fisheries Economic Research Unit.)