Refugee claimants in Canada may apply for and get funding from provincial governments when they first arrive in Canada, but a new law could make them ineligible to apply.
Residency requirement would disqualify newcomers
The federal government is proposing legislation that would allow provinces to impose minimum residency requirements that could disqualify applicants who are newly-arrived.
"We consider ourselves in Canada as a country that is opening and kind to refugees as a safe haven," says Michèle Biss, a coordinator with the anti-poverty group, Canada Without Poverty.  "Instead refugees will arrive in Canada and have absolutely access to nothing after fleeing incredible persecution and probably war."
Listen
Doctors protested health care cuts
This is the second time the Canadian government has tried to cut benefits to refugee claimants. Doctors and advocacy groups protested cuts to basic health care that was provided to asylum seekers. Those cuts were disallowed by the Federal Court which deemed them "cruel and unusual punishment" and, as such, contrary to constitutional guarantees. The government is appealing the decision.
If refugee claimants are denied access to social assistance, Biss says they will have to rely more heavily on food banks and other aid organizations which are already having difficulty meeting the needs of the poor.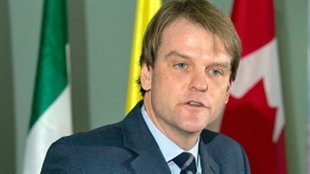 Minister implies refugee claimants 'abuse our generosity'
In defending the cuts, a spokesman for the immigration minister wrote an email to the Globe and Mail saying "Canadians have no tolerance for those who abuse our generosity and who take unfair advantage of our generosity." This is language similar to that used when the government cut health care benefits and passed previous changes to immigration law. It is language which outraged doctors and refugee advocates.
Cuts would contravene international obligations, advocates say
In the case of social assistance, Biss says that provincial governments have standards in place to prevent fraud and she wonders why the federal government doesn't trust them. Beyond that, she says Canada has signed international treaties which oblige it to ensure all people in Canada have access to basic needs. To exclude refugee claimants, she says, is discriminatory.
The Canadian Council for Refugees agrees and notes that Canada has signed the United Nations' Refugee Convention and "has legal obligations toward refugees who seek asylum in our country."
Plea for Canada to live up to its reputation
"They should be given the right to arrive in Canada and meet a country that does help them with their basic needs and helps them access services and be able to help them start a new life in Canada," says Biss. "That's our reputation and that's something that we should be working towards."