The leader of Canada's Green Party, Elizabeth May, was in Germany this weekend. She addressed a crowd  at the annual general meeting of the German Green party.
She spoke against ratification of the Canada-EU free trade deal known as CETA (Comprehensive Economic Trade Agreement).
She said that the "investor-state" provisions in CETA and other trade deals disproportionately benefit corporations.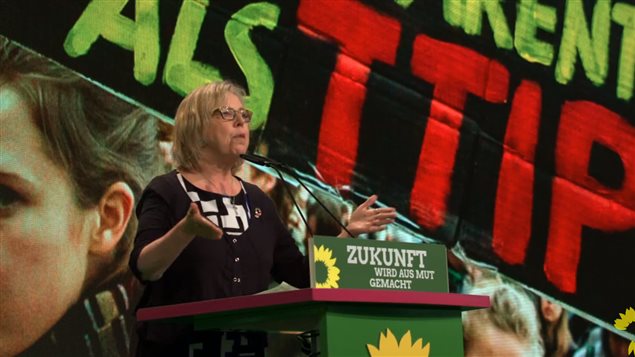 "Together, we can eliminate [investor-state] agreements, which are all about giving power to the powerful and more money to the monied. We can put in place those agreements that protect the marginalized and disadvantaged, and work for the kind of trade deals that elevate all the human family through fairness and justice".
The similar investor-state provisions in NAFTA have resulted in several lawsuits by American corporations against Canada which have cost taxpayers hundreds of millions of dollars.
Many in the crowd of about 1,000 gave her a standing ovation at the end of her speech.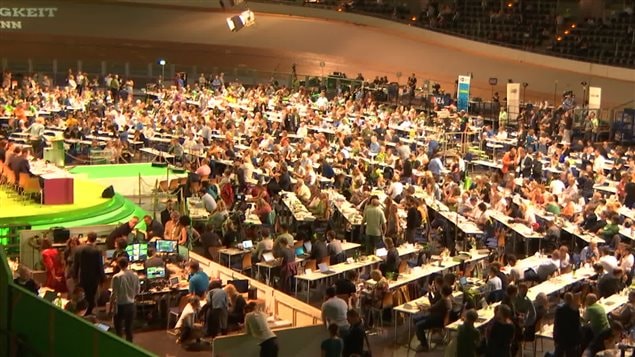 The Greens hold 10 per cent of the seats in the German Bundestag, and are coalition partners in several German states and hold 11 of the 96 seats of the European parliament.
Canada has ratified CETA, but the trade agreement must also be ratified by all EU member states and by the EU parliament before it can come into effect.
YouTube complete speech (Ms May begins at 1:24)