There have been several studies recently that suggest sitting for too long is bad for your health, but a new one says standing could be even worse. People who work more than four or five hours a day standing have a higher risk of heart disease than those who sit and those who move around have the least risk.
The study published in the American Journal of Epidemiology was based on the 2003 Canadian Community Health Survey. Researchers analysed responses from 7,320 people over a 12-year period. They found that those in jobs that required they stand had an almost two-fold risk of heart disease compared to those who mostly sat at work.
The body 'is not really meant to stay still'
"The challenge with both of those things is that the human body is not really meant to stay still for eight hours," says Mike Sonne, an ergonomist at the Occupational Health Clinics for Ontario Workers. "In both cases, you have reductions in the amount of blood flow you get and the long-term health effects of those can be really varied but very severe."
Sonne was not involved in the study which focused on heart disease. But he adds sedentary behaviour also increases the risk for cancer and diabetes.
Listen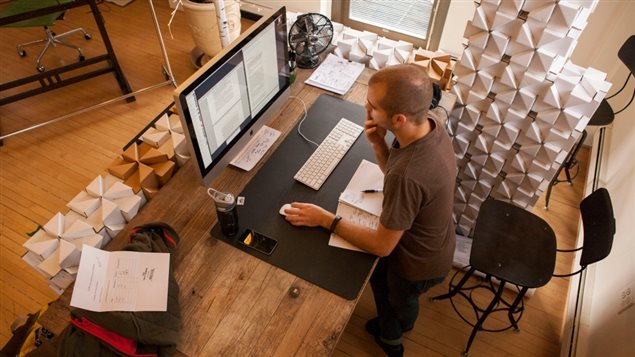 Move every hour, says egonomist
He suggests people change their posture every hour, even if it is for only a few minutes and this will require a change in attitude.
"The big challenges that we're seeing nowadays in the modern workplace is that workers are pretty much maxed out. We have a really hard time getting our heads around the idea that we need to give ourselves some time to breathe to recover physically and to recover mentally from doing a lot of work…
"But really, it goes a long way to take these short breaks and, as a result, you'll be less fatigued and you'll have more productivity by the end of the day."