Ukrainian President to visit Canada
Ukrainian President Petro Poroshenko is in New York today where he is holding talks with several world leaders during the opening of the U.N.General Assembly.
A press release today from the Canadian Prime Minister's office says the Ukrainian president will travel to Canada for a working visit on the 22nd, and 23rd. The press release also said Prime Minister Justin Trudeau, "will also reiterate Canada's ongoing support for the people of Ukraine, its sovereignty and territorial integrity, and its reform efforts".
President Poroshenko will meet with Prime Minister Trudeau on the 22nd on the margins of the Invictus Games.
Security issues will be on the agenda.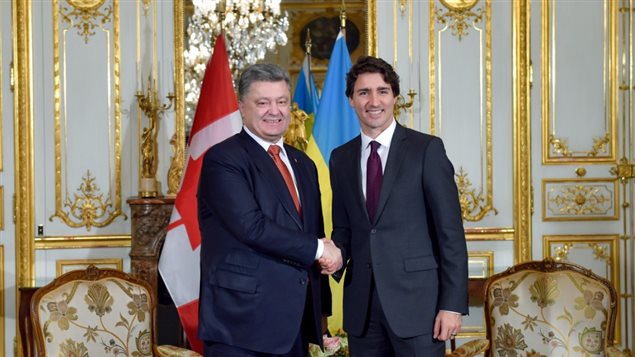 The Ukrainian president is facing a number of issues including an apparent presidential challenge from former leader of Georgia, Mikheil Saakashvili.
The Georgian was once an ally of Poroshenko who gave him Ukrainian citizenship which he later removed after the two fell out. Saakashvili was forced out of the country but has recently returned to Ukraine to drum up support to challenge for the presidency.
Adding to that internal pressure is the very real external pressure of Russia's "Zapad" (meaning –west) military exercise currently taking place in Belarus to the north of Ukraine. It is said to be one of the largest ever. Some have expressed concern whether the Russian forces would remain  in Belarus after the exercise is over.
Canada and Ukraine have enjoyed close bilateral relations since Canada became the first Western nation to recognize Ukraine's independence on December 2, 1991.
Canada currently has some 200 Canadian Forces personnel in Ukraine where they are providing skills training to the Ukrainian military in such areas weapons training,  movement during conflict, explosive threat recognition etc.
As of September 1, the Canadians have trained over 5,500 Ukrainian troops in a variety of skills since the training programme began in 2015..
The Canadians are scheduled to remain until March 2019.
additional information- sources