It's a large potato-shaped rock, roughly the size of a typical house.
But it's travelling at over 26,000 km/h relative to Earth's speed.
And although scientists were certain it posed no danger, it was a close shave in that it buzzed the earth only about 50,000 kilometres away, much closer than the moon which is 384,000 kilometres distant.
Michel Fich (PhD) is a professor of physics and astronomy at the University of Waterloo in Ontario.
Listen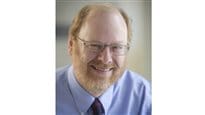 The asteroid is called 2012 TC4 and was spotted in 2012 as it came near the Earth.  It was tracked for a few days to determine its orbit at which time it was estimated not to pose a threat as it passed, close, but not dangerously on Thursday.
The track crossed the southern hemisphere near Australia and over New Zealand
Professor Fich points out that it was similar in size to an asteroid that hit the Earth's atmosphere at shallow angle above Russia in February 2013.
Even though it skipped across the atmosphere, the heat was enough to cause it to explode about 30 kilometres above the Earth. The shock wave broke windows and caused other damage, injuring about 1,000 people.
YOUTUBE of explosion over Russia 2013

The close pass of 2012 TC4 this time gave scientists around the world a chance to calculate its next orbit near Earth, and to practice for early detection and mitigation measures in the case of a future impact of this size of asteroid or greater.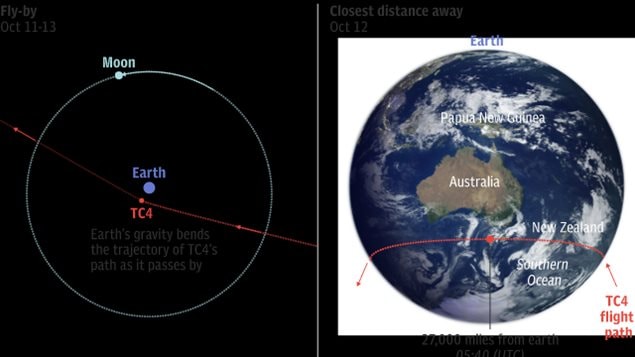 In the case of a TC4 sized asteroid (approx 20m), scientists would warn relevant governments to begin evacuation orders around the potential impact area.
If bigger, then scientists and governments would develop plans to modify its trajectory away from Earth.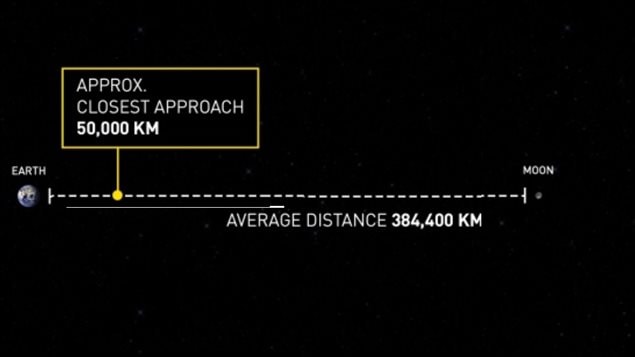 As Professor Fich points out, this would require detection and an effort to begin to move it as much as five or ten years before the asteroid arrives.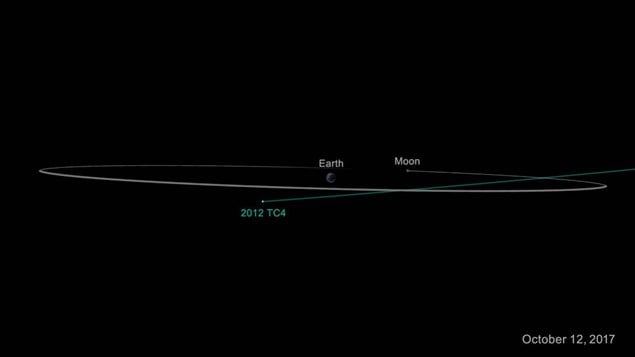 However he also notes that asteroids contain valuable minerals and it is conceivable that at some point in the not too distant future efforts could be made to "capture" an asteroid and slowly move it into high Earth orbit where it could mined for the mineral content.
Meanwhile scientists are constantly scanning the skies and space around earth to detect wayward asteroids that could pose a threat.
Additional information