It is possibly the oldest bone headed dinosaur in North America and possibly the world.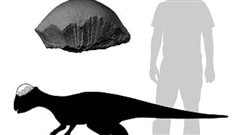 Scientists say the newly named Acrotholus audeti, was about 2 metres long, about 40kg, and would have been about thigh high on modern man.
It would have lived about 85 million years ago, and its discovery adds new information to a generally lesser known  period, and about smaller dinosaurs. In fact there were probably many more smaller dinosaurs, than the big ones most of us are familiar with.
Dr David Evans was closely involved in the discovery. He is Curator, Vertebrate Palaeontology with the Royal Ontario Museum, and  Assistant Professor in the Department of Ecology and Evolutionary Biology at the University of Toronto. 
Listen
A plant eater, the name Acrotholus mean "high dome" referring to its dome-shaped skull which is about 10 cm thick.  Audeti refers to Alberta rancher  Roy Audet on whose land the  best specimen was found in 2008.
The new dinosaur discovery is based on two skull 'caps' from the Milk River Formation of southern Alberta, where Dr Evans and his graduate students targeted their fossils search, specifically due to the age of the rock formations of this time period of about 85 million years ago.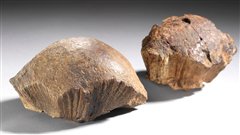 One of the skull caps had been collected by the Royal Ontario Museum (ROM) over 50 years ago. However, a  better specimen was found in 2008 by University of Toronto graduate student Caleb Brown during a field expedition organized by Dr. David Evans and Dr. Michael Ryan of the Cleveland Museum of Natural History.
 In modern ecosystems small mammals and reptiles can be very diverse and abundant.  However, fossil records for small dinosaurs are considerably  less common than large ones.  Dr Evans notes that at this point it's not well understood whether the lack of fossils from small dinosaurs is a true reflection of dinosaur communities, or is related to the fact that fewer bones are found because they may have been more easily broken up or consumed by predators and-or whether being smaller and thinner, they are simply more prone to decay.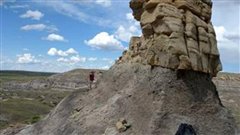 The find is the latest in a series of discoveries being made by Dr. Evans and Dr. Ryan as part of their  Southern Alberta Dinosaur Project, which aims to fill in gaps in of the record of Late Cretaceous dinosaurs and their evolution. The Milk River site in Alberta has some of the oldest fossil bearing formations in the province, but has been less studied than other very well known regions such as the so-called badlands of Dinosaur Provincial Park, and in the area around Drumheller