Listen
New kinds of schools are starting up in Canada that are based in the environment and favour child-directed learning. The so-called forest schools are based on a model of education that started in the 1950s in Denmark that has become popular in several European countries.
Children spend most of the day outdoors in natural settings. They might explore forests, creeks, meadows and ponds. There is emphasis on exploring local habitats, connecting to indigenous cultures, and issues like sustainability and conservation.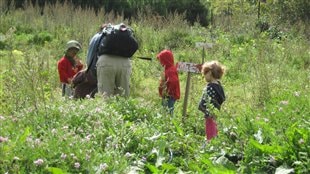 They might snowshoe, birdwatch, track animals, compost, build fires and shelters, and grow and cook their own food.
15+ forest schools in Canada
There are currently at least 15 such schools in Canada, mostly private. A new body called Forest School Canada has been set up to promote this kind of education in the early, primary, and secondary years. The hope is to work with provincial governments which have control over education to have the school recognized and thus, be eligible for funding.
For now there are schools for children from the very early ages through to secondary and there are smaller programs for informal settings such as after school operations and youth at risk programs.
A training program will soon be offered for educators soon who will also have to learn how to incorporate curricula set by the provincial governments.
Nature "wonderful" for health
"The research suggests that it (getting out into nature) is wonderful for children's overall health," says Marlene Power, executive director of Forest School Canada, "their mental health, their physical health and in an age where childhood obesity is such an issue forest school, in connecting children with nature, offers a really unique way of addressing childhood health."
It's also a way of learning about the environment that most people don't get, she says.