Anyone who has ever had one will tell you there's way more to a horse than meets the eye. Among many other wonderful things, a horse is empathetic, authentic, generous of spirit, non-judgemental, dignified and gentle–all the things we wish we–and other human beings–could be.
Once upon a time, horses played a way bigger role in our lives. Knights and kings rode them in the Middle Ages. Before the industrial revolution, horses played an integral role in our lives–key players in the production of food–used to plough fields and haul goods to market, a primary means of transportation.
Then we discovered technology and tractors, trucks, cars and trains took over. All of a sudden, horses were reduced to playing second fiddle–cogs in the entertainment industry, horse racing, Olympic jumping competition, rodeo. role in Their direct influence on people's livelihood diminished, unless you happened to be in the horse racing or show jumping business or maybe making book on the results of a horse race.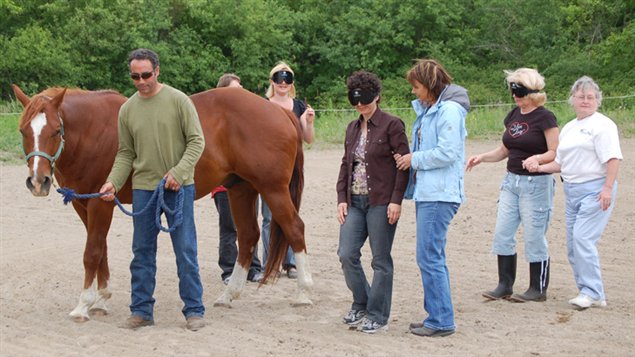 But make no mistake. Horses are back, ready to serve key roles in our lives. Over the past 15 years or so–horses are having a more and more profound effect on people's lives. People with behaviour problems, autistic kids, veterans returning from combat, teenagers with anxiety problems, are turning to horses for help.
No longer confined to show business, horses are providing ways to help heal damaged individuals. It's therapy known by many names–Equine Facilitated Learning, Humane Equine Assisted Learning, Equine Assisted Growth. And it's simply a logical step forward from what horse lovers–certainly young females–have always intuitively understood on an individual basis: horses make you feel better.
It's a form a therapy that is growing. The Equine Assisted Growth and Learning Association, founded in 1999, now boasts 4,100 members in more than 40 countries, including Canada.
Suzanne Latchford-Kulker, who lives on farm not far from Kingston, Ontario, is the founder of Human Equine Assisted Learning, or H.E.A.L. She is a life-long lover of horses, who now practices the art of healing.
She joined Terry Haig in conversation from her farm.
Listen