At precisely 7:15 this evening, the Peace Bell in the Japanese Garden, will toll for one minute, simultaneously with five other Peace Bells around the world, and the original in Hiroshima.  These observances commemorate the moment the atomic bomb was dropped on the Japanese city, killing almost 50,000 people that day.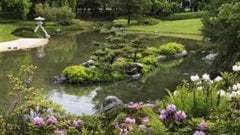 The solemn ceremony, provides a contemplative space around the sound of the bell.  The Japanese Garden in Montreal, created to enhance a feeling of serenity, is 2.5 hectares of water, stone and plant in harmony within the larger Botanical Garden.
The ceremony will be attended by Montreal's mayor, Laurent Blanchard, Tatsuo Arai, Consul General of Japan in Montréal, and many other Montrealers wanting to observe the occasion.
The Peace Bell was a gift from Hiroshima, to the city of Montreal in 1998.  It was created by well-known Japanese artist, Masahiko Katori, with the motto, "Hope for the Future". There are doves, the symbol of peace, engraved at the top, above engravings of the Big Dipper (Ursa Major) and The Southern Cross, constellations which symbolize the two terrestrial hemispheres.
Bells such as this one, are an important part of Buddhist tradition and temples.  The Peace Bell is an expression of the friendship and peace pact signed by the City of Hiroshima with the City of Montréal.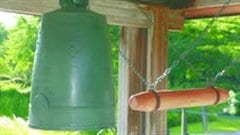 Just five other cities have been honoured with a peace bell from Hiroshima: they are, Volgograd in Russia, Hanover in Germany, Honolulu in the United States, Chongqing in the Peoples Republic of China, and Taegu in South Korea. In all of these locations a similar ceremony will be enacted at the same time.
We are never very far from these events
Tomorrow, August 6th in Montreal, the bell will toll 68 times during the day to mark the years that have passed since the tragic event.
The Botanical Garden is now part of Montreal's greater 'Space for Life', which includes the Planetarium, the Insectarium and the Biodome.  For this Peace Ceremony, the usual admission fee to the Botanical Garden is waived.
Charles-Mathieu Brunelle, Executive Director of the Space For Life has been a consistent observer of the ceremony. He describes it as very moving, saying "we are never very far from these events.":  Carmel Kilkenny spoke with him to hear more about the experience.
Listen
dianet id="6782900″ description="" titre="EN_Interview__2″ image="" balado="true" embed="false" complete_show="-1″]