At its best, ice hockey–Canada's national passion–is gorgeous to watch: players swooping in on goal, skates slicing the ice, lifting the puck past a sprawling goalie.
But hockey also has its dark side.
At its worst, it can get very ugly. Passions can to escalate to violence–both on and off the ice.
Fighting and hard hits have always been a part of the game on the ice, but as the players get bigger and faster and protective equipment gets harder and harder, more and more players are getting injured.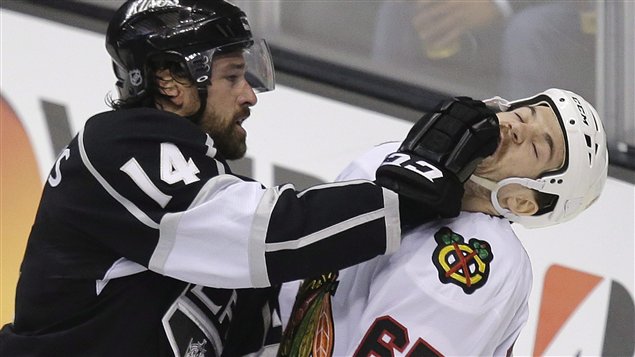 The Canadian Medical Association says it is time to do something about that violence.
At the CMA's annual meeting in Calgary on Wednesday, doctors voted to "condemn the complacency" of NHL owners toward violent acts such as hits to the head, hits from behind and fighting.
CMA President Louis Francescutti said the doctors want "to make it crystal clear that violence must be addressed."
The motion was brought forward by Dr. Pierre Harvey, a Quebec physician who was a hockey star in his youth. Dr. Harvey accused the NHL of "tolerating and promoting violence" for financial gain to the detriment of players.
He said doctors have an obligation to speak out the matter because kids who love hockey tend to try to emulate their NHL heroes.
"The league and clubs are comfortable with the current state of the game,"
said NHL Deputy Commissioner Bill Daley when asked about the motion.
Will the push by Canadian doctors have any effect on violence in the NHL? Not likely, says sportswriter Bruce Dowbiggin, who has long been outspoken on the issue.
Terry Haig spoke with Bruce Dowbiggin at his home in Calgary.
Listen