Listen
On this World Food Day, organizers of the first international conference on entomophagy in North America took the opportunity to announce the event planned for late August 2014 in Montreal.
The Insectarium, part of the city's "Space for Life" was a fitting location for the announcement, accompanied as it was by cricket canapes and cookies made of cricket flour by the Insectarium's chef.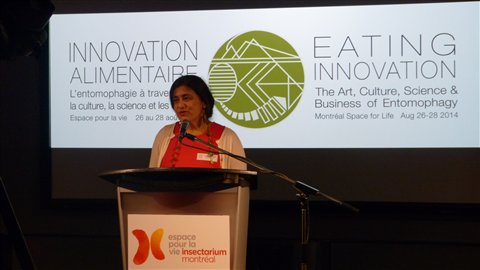 Aruna Antonella Handa is in Montreal for the occasion and she says organic cricket farms are the way of the future.  Already clients are waiting.  In the Food Salons she organizes in various locations, she has received enquiries from restaurateurs and food truck operators.
"Eating insects represents a disruptive food innovation: it re-conceives a pest as food. Insects are a sustainable source of nutritious protein requiring less water, land and producing fewer emissions in the production process. Many edible insects also have omega-3 fats and key minerals as well as being low in cholesterol. They can be ethically euthanized, economically raised, and are suitable for both individual and industrial farming," said Aruna Antonella Handa.
Two billion people around the world already know the nutritional value and great taste of crickets, for example.  This ancient food that Aristotle relished, is growing in appeal and acceptance now with demand far outstripping supply in North America.
Aruna Antonella says it is a great opportunity for Canada.  "We have to be a leader in this."