Listen
Weather is a favorite topic of conversation in Canada.  It is probably to be expected in a country that has four distinct seasons with great variations across the country.
And this summer has been the subject of many conversations. The unusual weather is very agreeable to some, a big disappointment to others.
David Phillips, Senior Climatologist with Envrionment Canada, says this is the first summer in many years that there has been no problems with smog in Toronto.
It's also the first summer in a many years that Toronto and Montreal have not had to issue brown-out warnings due to the heavy consumption of electricity to keep air conditioners operating during lengthy heat waves.
"The science is now geared up to look at this changed shape of the jet stream"  David Phillips
It's all due to a wobbly jet stream that is roller-coasting across the country in different ways, according to Phillips.  So people on the west coast and the east coast, are enjoying one of the hottest and driest summers on record.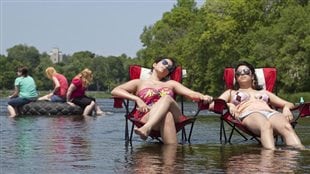 Again this is good news for some, but the resulting forest fires in north western Canada have been a major problem, and the resulting smoke has wafted south east as far as the northern United States.
David Phillips says these unusual patterns follow one of the longest experiences of winter, Having just received the figures, he says, "If you combine the data from November through to March, part of the fall, all of winter and into spring, it was the coldest on record."
With little over a month of summer left, and families preparing to send children back to school, people are looking toward another winter and wondering.  David Phillips says the trend will continue, with an early frost a concern for farmers in central Canada.  But there is an El Nino brewing and that means the winter is likely to be a little gentler this year.
An El Nino, is the flow of unusually warm surface waters from the Pacific Ocean toward and along the western coast of South America, and this changes rain and temperature patterns around the world and often raises global temperatures.