If Canadian Reginald Fessenden should be correctly credited with inventing modern radio transmission, then the invention of another Canadian, Edward "Ted" Rogers, of Toronto can be credited with another major revolution in radio.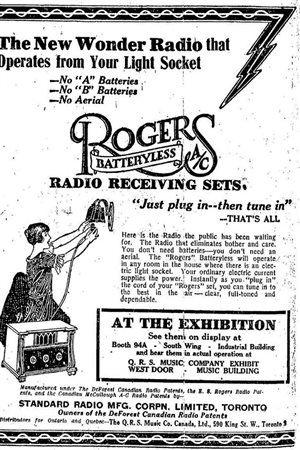 In the early years of the past century, radios operated on direct current batteries.
These were heavy, sometimes leaked acid, and produced an often loud hum in the reception.
A long time fan of radio, the still young Ted Rogers, began studying the ideas of an alternating current (AC) vacuum tube which would eliminate the hum of direct current (DC).
After visits to several inventors and factories, on August 26, 1924 he announced his own new tube invention, the Rogers Experimental 15S vacuum tube, which enabled radios for the first time to be operated from household AC current.
Previous AC tube experiments by others had also produced an annoying hum from the filament.
Rogers invention shielded the tube filament and turned it into a heater of the surrounding shield which itself became the cathode emitting electrons and eliminating hum.
This was an enormous revolution in the development of radio.
He also later developed a "rectified" AC power-supply adaptor set that enabled owners of radio recievers to toss away their complicated battery set-up and plug in directly to household AC.
He subsequently formed the Standard Radio Manufacturing Company to produce his own all-electric radios, which even at the then very steep price of $110-$370 (an average yearly salary at the time might be $1000) were an instant success in 1925.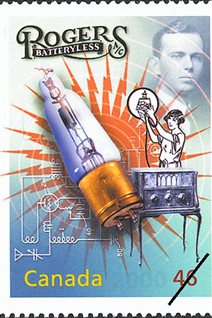 As houses at the time were wired only for lighting purposes, the radios sold had connectors enabling them to be plugged into lightbulb sockets
He later followed the manufacturing operation by creating his own radio station in 1927, with the call letters CFRB –Canada's First Rogers Batteryless.
Using his technology, it became the first radio station to operate from municipal AC power rather than the typical complicated setup of generators and DC motor converters and batteries which was typical at the time.
Ted Rogers died suddenly in 1939, just short of his 39th birthday. His son, Edward, went on to build the company into a media empire.