A professor at the University of Western Ontario says anorexia should be considered a "passion" and by doing so, it can modify current treatments and therapies.
Louis C Charland (PhD) is a professor in the School of Health Studies, in the departments of psychiatry and philosophy and a member of the Rotman Institute of Philosophy.
Listen
Professor Charland and co-authors, psychiatrists Tony Hope, Anne Stewart and Jacinta Tan, published their work in the Journal of Philosophy, Psychiatry, & Psychology in December of last year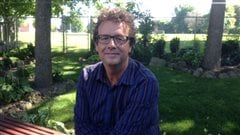 Anorexia Nervosa was first identified clinically as long ago as the 1870's, but has really only become a serious concern in the past few decades.
It has long been treated as a mental "disorder". Professor Charland says "Anorexia nervosa is notorious for being enduring and difficult to treat. Current treatments are highly cognitive in nature and are not always effective."
He says categorizing anorexia as a 'passion' may lead to more "affective" approaches to treatment that target the nature of the disorder more directly.
This new direction is based on the theory of passions as proposed by the founder of scientific psychology  in France, Theodule Ribot.
Based on Ribot's theory, Professor Charland says, "A passion is relatively stable, lasting months or years. It plays a significant role in motivating, determining, and organizing a person's long-term behavior around a fixed idea. This makes passions different from feelings and emotions, which are simpler states of shorter duration."
The published work has received favourable commentary, and has prompted discussions on how thinking of anorexia as a passion gone awry may influence clinical treatments and therapies.
Professor Charland notes that this latter aspect will be a long and careful process by pyschiatrists and psychologists
StatsCan on Bulimia and Anorexia Nervosa