Normally gannets are wonderful parents, carefully guarding and feeding their single chick. This year  in  highly uncharacteristic behaviour, about half the colony on the cliffs in southern Newfoundland suddenly abandoned their nests leaving  many of the chicks to starve.
Seabird biologist William Montevecchi (PhD) has been studying the birds most of his adult life. The birds depend on oily fish to fatten their chicks and he thinks unusually warm water has caused the fish to seek colder water deeper and /or further away.
He is a research professor in the psychology department and with the Biology and Ocean Sciences department at Memorial University in the Atlantic Island province of Newfoundland.  I reached him Spain where he is attending a conference wit the International Committee for the Exploration of the Sea.
Listen
Gannets are beautiful, large seabirds. They can dive for fish from great heights, and go down several metres to catch their prey.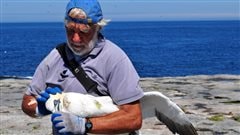 Every year hundreds of thousands of gannets nest on Cape St Mary's in Newfoundland. It's one of about six nesting sites in Newfoundland and Labrador, and in the Gulf of St Lawrence region of Quebec.
This year Professor Montevecchi says he was surprised to see about half the colony suddenly abandon their nests and chicks, something virtually unheard of in gannet behaviour.
He suspects the unusually warm water in the ocean around the colony may have caused the birds' typical prey, mackerel, herring, and smaller fish like capelin, to move away to cooler water.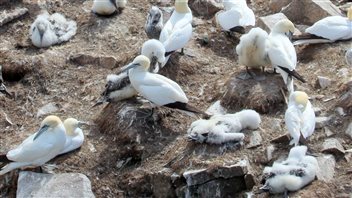 Records show most of the waters off the east coast are three degrees warmer than usual. Environment Canada senior climatologist Dave Phillips, says a persistent flow of warm southerly air probably contributed to warming of the sea surface.
Professor Montevecchi  says the gannets have been spotted by fishermen much farther out to sea than normal, and also diving for scraps from their boats. This latter behaviour is not unknown, but is unusual.
He says it shows the birds are going after whatever food they can find in what appears to be a bit of desperation.
He noted on a recent trip to the colony, that some chicks were falling off the cliffs "They're probably so weak and so emaciated they just can't keep it together. So there's high mortality and most of it's going to be due to starvation."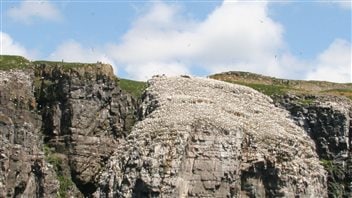 Professor Montevecchi says the adults have since returned from their two-to-three week absence just as mysteriously as they left, but the mortality among this years chick population is extremely high.
He notes a similar situation for another type of seabird that also nests in the area, the smaller Kittywake.
Professor Montevecchi says only other incident of this nature occurred in 2012, one of the warmest global years on record when the sea temperature was again three to four degrees warmer and the gannets suddenly abandoned almost all nests.
It was estimated at that time that only about eight percent of the chicks survived on the largest colony, on Bonaventure Island off Quebec's Gaspe coast in the Gulf of St Lawrence.
Recently the Audubon society released a report saying climate change could imperil up to half of North American bird species in the decades to come.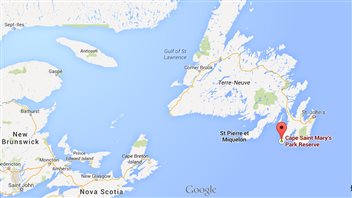 In an interview, lead author  of the report, biologist Gary Langham said birds like the northern gannet, common loon, bald eagle and other well-known birds may begin to suffer. "It's not so much that the adults are just going to die, but that they'll not be able to successfully raise enough young to replace themselves over succeeding generations" .
Another seabird, the puffin, is also known to have had low breeding success in the past few years in colonies off the American coast.
While he doesn't completely agree with Audubon's predictions, professor Montevecchi says this extremely unusual behaviour is almost certainly connected with climate change  which is having a dramatic effect on the birds and both the birds and the fish need to be tracked more thoroughly to find more precise answers to the mystery of their mass departures.