A new study has shown that the increasing use of re-usable commercial plastic produce containers, has a drawback; bacterial contamination of the containers
After the first limited study of the containers last year found unacceptable levels of bacteria and pathogens, there was an industry promise to improve cleaning and sanitizing.
However, in the second, and broader study of the crates this year, Canadian researchers found even higher levels of bacteria and pathogens.
Keith Warriner  is a professor and Food Safety and Quality Assurance Program Director in the Department of Food Science at the University of Guelph, and president of the Ontario Food Protection Association
Listen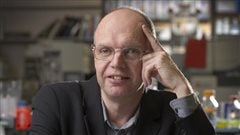 These reusable plastic containers (RPC)  have made their way into the North American market at the insistance of a few major retailers, obliging produce suppliers to use them.
Instead of the traditional cardboard boxes, which are used once and recycled, Canadian farmers now rent the RPC's for packing and after one shipment, the RPC's are supposed to be returned to the United States where they are to be cleaned and sanitized, before being sent on to the next farm.
What the researchers found however was, "alarming levels of sanitization and significant risk for food contamination,"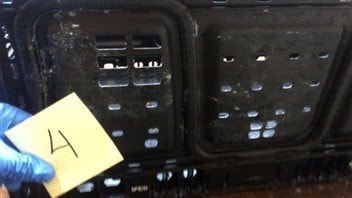 In fact, using UK food safety standards for food surfaces as a pass/fail baseline, 43% of RPCs failed sanitary standards due to high ATP (adenosine triphosphate) readings (equivalent standards do not exist in North America).
Specifically, the fecal indicators were more prevalent in the current sampling trials compared to the study performed in 2013. Rates in the province of Quebec are especially alarming. RPCs sampled in Quebec recorded the highest indicator counts and ATP readings.
Following a small-scale sampling last year of 15 random crates, which resulted in promises to improve the sanitizing process, the survey this year was expanded to random testing over several weeks of 160 containers from several different packing locations in Ontario and Quebec which had delivered as cleaned and ready for re-use.
Plastic crate operator IFCO claims that its washing process "destroys 99.5 per cent of bacteria" and that "RPCs are washed, sanitised and air-dried between every issue, without fail."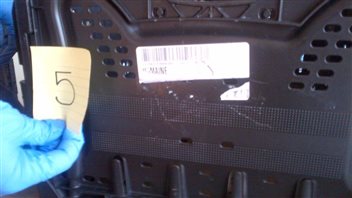 Professor Warriner noted that in spite of promises of improved cleaning, there were examples of trays with previous user labels still on them.  He said, "Given the state of randomly selected RPCs I would question whether they are even sent to the US for sanitization at all."
There are no cleaning facilities in Canada for the RPC's,
Almost half (43 per cent) of the crates arriving at the growers' farms failed basic sanitary standards; 73 per cent exceeded bacteria loading levels; and 51 per cent and 35 per cent failed tests for enterobacteriacea and coliform respectively.
Professor Warriner points out that there is relatively little risk to the consumer from the bacteria, however there is a real threat of pathogens being spread into various Canadian crops coming from the US or Mexico, with the risk of serious economic harm to Canada's fruit and vegetable industry.  While there are strict rules for other aspects of food production, regulation for such re-usable and trans-border containers seems to fall through the cracks, according to professor Warriner.