A respected expert in children's environmental health has helped produce a new video to drive home the message that even small amounts of toxic chemicals can have a cumulative effect on a child's brain development.  It's called "Little Things Matter"
Dr Bruce Lanphear M.D is a public health physician and researcher and professor in the Faculty of Health at Simon Fraser University in British Columbia.
Listen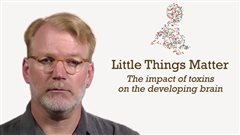 Dr Lanphear has conducted many long-term studies of the effects of common chemicals on the intellectual and behavioural development of children.
In this latest action, he seeks by means of a video presentation to show that even minute levels of common chemicals have a demonstrable effect.
He notes that many common pharmaceutical drugs are designed to be effective at the very minute levels.  It turns out that these "parts per billion" levels where the drugs affect the body,  are similar to the levels of several toxic chemicals found in childrens bodies, meaning these toxins are biologically active.
Not only that but  he says when you add up the minute levels of several common chemicals, the effects are cumulative and can have a clear effect on a child's IQ
He says citizens and governments must become aware of this situation and take steps to ensure new chemicals are actually safe before they are allowed into products, and not approved first only to be found harmful much later after many people have been affected.
VIDEO- LITTLE THINGS MATTER